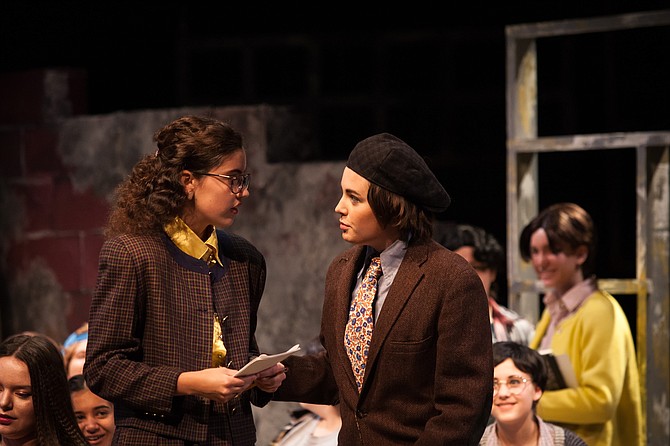 Behind the cracked windows of an inner city school house, a teacher pushes to discover how to scale the insurmountable walls of her students. The Madeira School artfully captured the power of perseverance and the danger of first impressions in their compelling performance of "Up the Down Staircase."
"Up the Down Staircase" was originally a novel by Bel Kaufman, published in 1964. The book was made up entirely of documents, such as letters, suggestion box cards, and school memos. It was adapted into a movie in 1967, then into a play by Christopher Sergel, preserving pieces of the book's epistolary format. Taking place in the '90s, the story follows Sylvia Barrett, a new teacher eager to inspire her students at Calvin Coolidge High.
Alex Raposo, playing Sylvia, skillfully executed the poise demanded for her mature character, employing a great range of emotional dexterity. Partnering Sylvia was her friend and mentor, the long time teacher Bea Schachter, played by Morgan Taylor. Taylor's consistent characterization and clear maturity aided her relationship with Sylvia, as she created a mother figure for the frazzled young teacher. This believable relationship added dimension to both characters, with their conversations allowing them to accentuate the differences between a new and old teacher's perception of the school.
The dedicated ensemble playing Sylvia's class captured Calvin Coolidge High's complex student body with ease. Each cast member remained committed to their role, expressing their character's differentiating personalities while maintaining the feeling of a unified classroom.
Among the students, Melissa Handel, playing Alice Blake, delivered the most heart-wrenching story. Handel delicately followed Alice's struggles against her insecurities and wishes, unraveling herself more with each scene and building her character with clear direction. Olivia Lewis, playing the student Jose Rodriguez, was also emotionally compelling, creating an aura of quiet defeat amidst the raucous classroom. Bringing comedic relief was Sydney Marenberg, playing Lennie Neumark. Marenberg embodied her male character with gusto, and from the moment she sauntered onto stage, appeared flawlessly rowdy and ludicrous, eliciting peals of laughter.
The strong technical elements of the production added another level of intricacy. The set portrayed a simple school classroom, with platforms of increasing height behind it. This alluded to a staircase in reference to the play's title, as well as allowing height disparity to make blocking more unique. Complex sound and lighting effects also worked both efficiently and symbolically, changing to reflect moods or situations and making the show more immersive. Time period appropriate makeup and efficient stage management helped the show go off without a hitch, tying together the performance.
As Sylvia navigates a maze of mental illness, poverty, violence, and other issues plaguing her students, she discovers how much more there is to Calvin Coolidge High than what meets the eye. In their meaningful performance of "Up the Down Staircase," The Madeira School sends a heartwarming reminder of every situation's complexity and the importance of caring for others, no matter what it entails.
More like this story