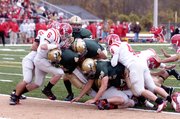 McLean — Langley linebacker Philip Novacki recovered a McLean fumble in the second quarter and headed toward the end zone.
The 6-foot-3, 220-pound senior plowed through multiple would-be tacklers, who tried in vain to wrestle him to the turf. The Highlanders even grabbed Novacki's facemask, which resulted in a penalty, but they couldn't keep the sturdy Saxon from crossing the goal line.
However, Novacki's struggle for six went for naught as officials ruled he stepped out of bounds during the return --- a call with which the Saxon sideline strongly disagreed.
"I scored on that," Novacki said after the game.
Three plays later, Novacki scored a touchdown that counted. With the ball at the 1-yard line, Novacki, who moved from receiver to quarterback, took a shotgun snap and smashed his way into the end zone.
Novacki and the Saxons would continue their physical play as Langley closed the regular season by pounding its Liberty District rival.
Langley defeated McLean, 27-7, on Nov. 3 at Langley High School. The Saxons rushed for 226 yards and extended their winning streak to three games heading into the playoffs.
"We're on a good roll. We've ended the season well and I think we can do some good things in the playoffs."

--- Langley quarterback Nick Casso
Novacki was a difference-maker on both sides of the ball. His fumble recovery helped the Langley defense hold its third opponent this season to fewer than 10 points. On offense, he carried four times for 11 yards and a touchdown, had two receptions for 63 yards and completed a pass for a two-point conversion.
"We just want to be the most physical team," Novacki said, "and just pound it down."
MCLEAN, which needed a victory to reach the postseason, managed just 131 yards of offense and turned the ball over three times. The Highlanders finished the year with a 4-6 record.
"[Langley is] a good team," McLean Head Coach Dennis Worek said. "We played as hard as we could."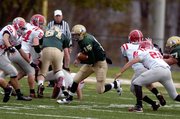 On defense, the Highlanders focused their efforts on stopping Langley running back Philip Mun, who has been a force in the Saxons' read-option spread offense. Mun carried 19 times for 82 yards and two touchdowns against McLean. While the Highlanders kept Mun in check from a yardage standpoint, Langley quarterback Nick Casso made McLean pay for its defensive strategy.
Casso carried 19 times for a career-high 125 yards and a touchdown. He also completed 4 of 9 passes for 79 yards.
"He did a great job running the ball and that was the difference-maker," Langley Head Coach John Howerton said. "[McLean] did do a nice job slowing Mun down and jamming the box up there and playing man. … Nick was the difference today. I think [the Highlanders] said we're going to make the quarterback beat us either throwing or running and he did."
Casso got off to a strong start, breaking off a 53-yard run on Langley's first play from scrimmage.
"Going in," Casso said, "we were just going to work with what the defense gave to us and see if they keyed on Mun."
The Highlanders did, and Casso made them pay. The junior signal caller scored on an 8-yard run with 2:40 remaining in the fourth quarter, putting the finishing touches on the Langley victory.
"I put it on my shoulders," Casso said, "to try and take some stress off [Mun] in the running game."
On defense, senior lineman Kyle West recovered a fumble for Langley and senior defensive back Aaron Yi intercepted a pass. McLean's seven points marked the second-lowest point total allowed by the Saxons this season.
"We played inspired," Novacki said of the Langley defense. "The whole year we've been told we've been a good defense, but I feel like today we finally stepped up and showed we're a great defense."
LANGLEY started 3-1 this season before experiencing a three-game losing streak. The Saxons lost to Chantilly, a Division 6 playoff team, by one point, Madison, the No. 3 seed in D5, by three points and Yorktown, the No. 2 seed in D5, by 10 points. Langley's most lopsided loss was a 27-6 defeat against Stone Bridge, the No. 1 seed in D5. The Saxons closed the regular season with victories against South Lakes, Fairfax and McLean to finish 6-4.
"I really think this is the best team I've had as a whole [in the 10 years] I've been here," Howerton said. "… We could very easily have been 9-1."
Langley is the No. 5 seed in the Division 5 Northern Region playoffs and will travel to face No. 4 Hayfield at 7:30 p.m. on Friday, Nov. 9. Hayfield finished the season 7-3 and was runner-up to Yorktown in the National District.
"We're on a good roll," Casso said. "We've ended the season well and I think we can do some good things in the playoffs."