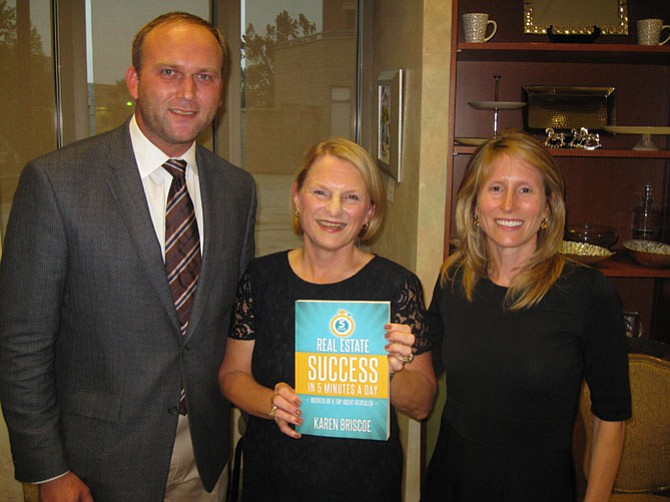 See more book launch party photos on Facebook.
Karen Briscoe, 57, a Realtor with the Huckaby Briscoe Conroy Group (HBC) with Keller Williams on Elm Street in McLean, celebrated her book launch party on Thursday, Sept. 29 at the Star Nut Gourmet in McLean. Her book called Real Estate Success in 5 Minutes a Day - Secrets of a Top Agent Revealed is a daily reader with business or life principles told in a story format.
"This is a takeaway for every day that you can put into action. If you invest five minutes a day over a year, you'll achieve a high level of success," said Briscoe, a 22-year resident of McLean. "They're basic business and life principles told with stories of real estate. Other businesses are finding ways that it applies to their life as well."
Briscoe held a Book Club in her office and started writing last October by putting her thoughts down in a blog. It took her nine months to complete the book, which is broken down into 365 entries -- a daily read for each day of the week. The idea is to invest just five minutes of the day into reading and putting the takeaway into action in order to achieve success at a high level, she said. Her Facebook page, Real Estate Success in 5 Minutes a Day, continues the conversation on the topic she said, "since we are all reading the same entry for the day."
The party hosts were Keller Williams agents Lizzy Conroy (Vice President, HBC Group), Ron Cathell (Owner, Team Cathell) and Amina Basic (CEO and Team Leader, KW). A dozen or so guests chatted with the author, who signed copies of her book, and dined on wine and cheese and sweets.
Briscoe has been a Top 100 Agent for Keller Williams worldwide since 2009. She sells residential real estate in the McLean and Great Falls markets. Over the years, the HBC group has sold over 1,000 homes valued at over $1 billion.