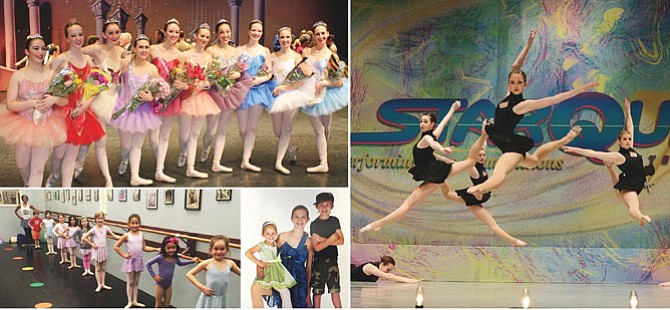 August
Fairfax Family Golf Month. At Oak Marr Golf Complex is located at 3136 Jermantown Road, Oakton. In August, parents pay for their 9-hole round of golf and accompanying children and teens (ages 8-17) will receive a round at no charge. This is also good at Jefferson District Golf Course is located at 7900 Lee Highway, Falls Church, and Pinecrest Golf Course, 6600 Little River Turnpike, Alexandria. Visit www.fairfaxcounty.gov/parks/golf for more.
Tuesday/Aug. 29
Dance Open House. 4-6 p.m. at Cuppett Performing Arts Center, 135 Park St, SE. Beginner through pre-professional dance classes in ballet, tap, jazz, modern, lyrical, hip hop, acro and musical theatre. Visit CuppettPAC.com or call 703-938-9019.
Toastmasters Humormill Club. 6-8 p.m. in the McLean Bible Church, Ground Floor Community Room, 8925 Leesburg Pike. Humor and improv help develop spontaneity and speaking skills. Experience laughter and a speech contest. Visit humormillclub.toastmastersclubs.org for more.
Wednesday/Aug. 30
Back-to-School Quote-Along Movie. 7 p.m. at the Old Firehouse, 1440 Chain Bridge Road. The Alden begins a series of quote-along movies with a back-to-school viewing of "Mean Girls," Tina Fey's 2004 high-school comedy. Call 571-296-8385 or visit www.mcleancenter.org.
Tuesday/Sept. 5
Lecture on Downton Abbey. 12:15 p.m. at Trinity United Methodist Church, 1205 Dolley Madison Blvd., McLean. The McLean Woman's Club presents food and travel writer CiCi Williamson describing the food and its preparation on the 6-year show, along with the history of Highclere Castle, where the filming took place. Free. visit www.mcleanwomansclub.org or call 703-556- 0197.
Wednesday/Sept. 6
McLean Newcomers and Neighbors. 11 a.m.-12:30 p.m. in the Community Room, Regency at McLean, 1800 Old Meadow Road, McLean. Visit www.McLeanNewcomers.org for more.
Sept. 7-9
Quarterly Book Sale. 11 a.m.-8 p.m.; Saturday 10 a.m.-2 p.m. at the Tyson's Library, 7700 and 7704 Leesburg Pike. Large selection of books and media for all ages and interests. Visit tysonslibraryfriends@gmail.com or 703-338-3307 for more.
Sept. 9-20
Northern Virginia Senior Olympics. Various times and locations, more than 50 different events taking place at more than 25 venues across Northern Virginia. Call 703-403-5360 or visit www.nvso.us for more.
Wednesday/Sept. 13
Riverboat Cruise. 10-11:30 a.m. at Shepherd's Center of Oakton-Vienna (SCOV) 541 Marshall Road SW, Shepherd's Center of Oakton-Vienna hosts day trip to Georgetown Harbor via riverboat cruise from Alexandria to Georgetown for shopping, exploring and lunch. Will return by riverboat to Alexandria, then the bus trip home to Vienna. $85 includes transportation and riverboat cruise. Call 703-281-0538 or visit www.scov.org.
Friday/Sept. 15
Chillin' on Church. 6:30 p.m. at Church St., Vienna. Water games, Chump Change band playing rock. Visit www.viennava.gov or call 703-255-6360.