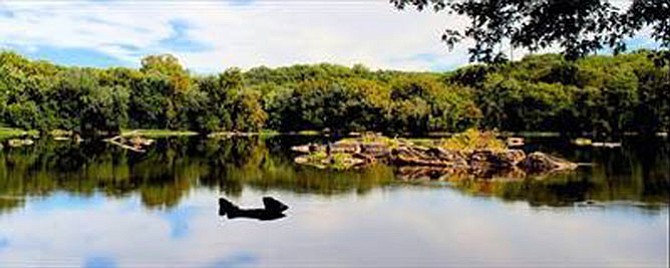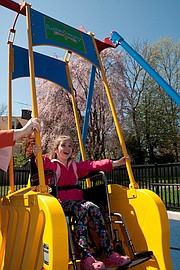 We are fortunate to have many wonderful parks, historical features and community events in the Dranesville District. The following are some of my favorites.
Clemyjontri Park, 6317 Georgetown Pike, McLean
Since opening in 2006, more than 200,000 visitors have enjoyed this unique playground where children of all abilities can play side-by-side. Equipment allows children who have physical, sensory or developmental disabilities to have a parallel playground experience of fun and exploration. The park also includes a carousel and picnic pavilion.
Riverbend Park, 8700 Potomac Hills, Great Falls
This park offers over 400 acres of forests, meadows and ponds. Trails include a 2.5 mile portion of the Potomac Heritage Trail that links national and regional parkland. Kayaking, canoeing and fishing are all available on the Potomac River. The nature center and picnic shelter are available for rent.
Colvin Run Park, 10017 Colvin Run, Great Falls
Colvin Run Mill offers visitors a chance to step back in time. There are tours of the restored mill, which was built around 1811. A general store offers stone ground cornmeal, wheat flour, grits, "penny candy" and snacks and drinks. Trails are available for quiet walks. Live music, craft demonstrations, ice cream making and seasonal activities are available from February through December.
Turner Farm, 925 Springvale Road, Great Falls
Originally the site of a dairy farm, the 52-acre park offers a mix of educational and recreational facilities. In 2016, a new roll-top observatory opened in Observatory Park at Turner Farm. The observatory offers the public a chance to see the night sky from one of Fairfax County's darkest spots through permanently mounted telescopes. The Analemma Society partners with the Park Authority to provide astronomy programs at the observatory. Equestrians can enjoy a cross country course and a large multi-purpose arena with stadium jumps and dressage makers. Small children can enjoy a tot lot.
Runnymede Park, 196 Herndon Parkway, Herndon
The Town of Herndon is located in the Dranesville District. The town owns and maintains this 58-acre park. It is the site for many community nature-related events such as the annual Nature Fest. Situated near the Sugarland Run Stream, the park attracts over 100 species of birds, deer, fox and other wildlife. Two park shelters are available for rental.
Scotts Run Nature Preserve, 7400 Georgetown Pike, McLean
One of the few nature preserves in the County. The 336-acre preserve, formerly known as the Burling Tract, had at one time been slated for development. Scotts Run offers wonderful hiking trails of varying difficulty, some of them leading to the bluffs of the Potomac River.
Wolf Trap National Park for the Performing Arts, 1635 Trap Road, Vienna
Known simply as Wolf Trap. The 117-acre park is home to the beautiful Filene Center, The Barnes and the Children's Theatre-in-the-Woods. Each summer there are over 100 performance across all genres. There are also year-round recreational opportunities, including hiking trails, picnic areas, and sledding.
Spring Hill Recreation Center, 1239 Spring Hill Road, McLean
Visitors can take advantage of the indoor swimming pool, a two-story fitness center and a gymnasium with an elevated running track. The gym features a single high school-sized basketball court with two overlay basketball courts and a volleyball overlay court.
MPAartfest, McLean Central Park, 1468 Dolley Madison Blvd., McLean
Every October, the McLean Project for the Arts converts McLean Central Park into a free, one-day festival of the arts. Thousands of area residents attend. Vendor tents display the works of numerous juried artists, which are complemented by the exhibitions of children's' and seniors' artwork, an Open Studio demonstration, and performances by local musicians.
Great Falls Freedom Memorial, 9830 Georgetown Pike, Great Falls (behind the library)
Dedicated in 2004, the memorial plaza on the library grounds honors local military personnel, firefighters, police officers, the six Great Falls residents who died in the Sept. 11, 2001 terrorist attacks, and others who have made the ultimate sacrifice to defend our liberty and freedom. The service on 9/11 is very moving.
McLean Day, Lewinsville Park, 1659 Chain Bridge Road, McLean
Sponsored by the McLean Community Center, McLean Day is held on the third Saturday in May. The festival features live entertainment, carnival rides, exhibitions and delicious foods for visitors of all ages. The event also includes booths where artisans, local businesses, civic organizations, nonprofit groups, and local officials showcase their wares.
Great Falls Park
This National Park consists of 800 acres along the banks of the Potomac River. The park is a wonderful place to hike, picnic and simply view the majestic falls and rapids, often navigated by kayakers. Entrance is at the intersection of Georgetown Pike and Old Dominion Drive, Great Falls.
Dulles Station Community Park, 13707 Sayward Blvd., Herndon
This recently completed 2.6-acre park includes playgrounds for preschoolers and elementary-age children, as well as a seating area, fitness area, multi-use court, trail and a dog park with a shade pavilion.
Farmers Markets
In addition to the Fairfax County Farmers Markets held from May through November in Herndon and McLean on Thursday and Friday mornings, respectively, the Great Falls Community Farmers Market is held on Saturday mornings year-round. The Famers Markets are a great way to shop local. Visit www.fairfaxcounty.gov/parks/farmersmarkets/ or greatfallsfarmersmarket.org/