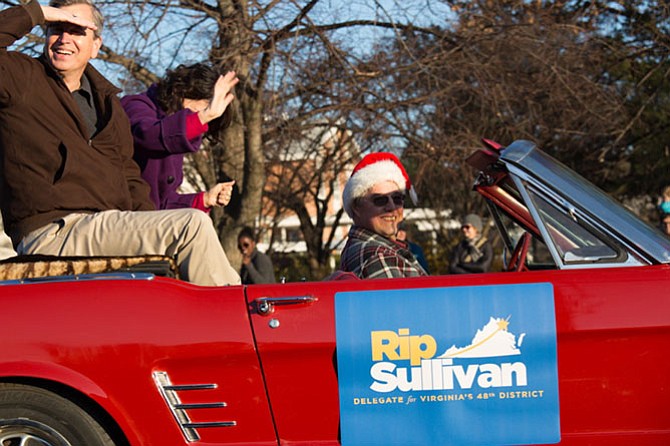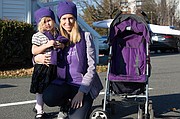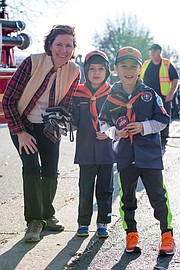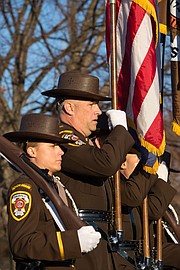 The ninth annual Winterfest in McLean closed down a section of Old Chain Bridge Road and Elm Street in downtown McLean on Sunday for a massive street parade. Hundreds of people lined the streets to see the fire department, police department, McLean High School's Highlander marching band, cub and girl scouts, and other community groups rode cars, floats and other vehicles down the street in holiday celebration.
Food trucks lined the edge of Langley Plaza. The parade has been going on longer than nine years, but since being rebranded as Winterfest it has attracted more participants and sponsors than ever.
Top sponsors were The McLean Community Foundation, State Farm Insurance and the McLean Revitalization Corporation.
Caitlin Gillett, a Fairfax resident, said that the sense of community was why she attended the parade with her daughter to represent the group, College Nannies. "We've been here building stronger families in the area, and it's great to get out and find more families to help babysit and tutor," said Gillett.
The volunteer fire department in McLean was helping to register vehicles and groups who were marching or driving in the parade. Laine D'augustine, a physician assistant and member of the McLean volunteer fire department was working at the table. "I've driven an ambulance in this parade before. It's a really nice event for the whole community to participate in and to celebrate the holidays," said D'augustine.
The Community Emergency Response Team volunteers were standing along the parade route and most street corners in McLean to make sure that drivers knew where to park and that everyone was safe. CERT is meant to be active in the event of a disasters, where first responders would be overwhelmed with other duties.
"McLean Winterfest encourages local participation and a community feeling. My girl scouts have been marching for a few years. They like waving and sharing the holiday spirit," said Jennifer Ruscio, a McLean resident who works in finance.
"This is the ninth annual Winterfest, and it's homegrown, with local businesses, girl scouts, and the community to say, 'hey we're here!' and Santa is our gift to everybody," said Clyde Clark, a Vienna resident, the former McLean Volunteer Fire Department chief, and a member of the Winterfest steering committee.
Janet Tysse, president of the McLean Community Foundation and a McLean resident was excited to have the opportunity to sponsor the parade. "It's awesome for McLean to be able to have these community events. We are happy to have the local banks, realtors, and insurance companies sponsor the parade for everyone's benefit," she said.
More like this story