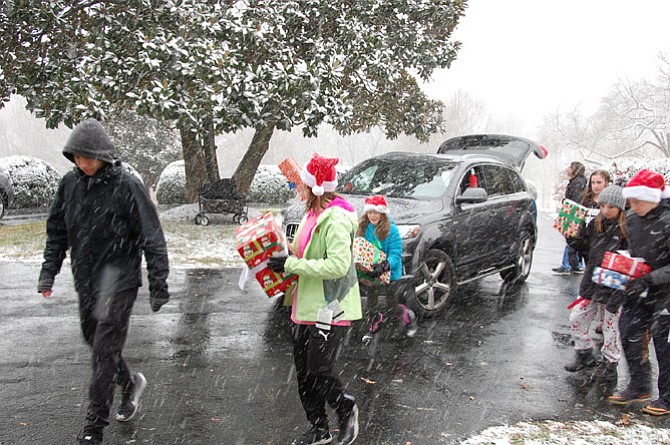 Great Falls — Kristina Okeson, 14, of Great Falls, volunteered to sponsor Austin, an 8-month-old baby for this year's Wish List Project.
"It was great! It gave me a whole different perspective on those who aren't as capable of providing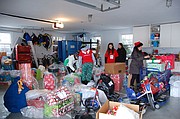 gifts for themselves this holiday season. I like doing charities and helping others," said Okeson.
This was her first time participating and when she and her mother received the match from the Wish List Project, they were provided with a few sentences about what baby Austin and his family needed this holiday season.
"They wanted some bedding and little toys, and a jumper walker for him to play in," she said.
But Okeson wanted to add a personal touch. "I added on some stuff that I enjoyed when I was a child, like stuffed animals, some books, and toys."
Dec. 9 was the drop-off for gifts for the Wish List Project in Great Falls. Volunteers dressed as elves unpacked gifts from cars dropped off by about 200 volunteers this year. The Wish List Project is in its 18th year connecting children to donors in the community.
"People's wish list are their wants and needs," said Program Co-chair, Christine Shumadine. And the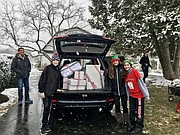 wants are filled out electronically to keep some mystery about who will fill them around the Holidays.
This year, the Wish List Project created a digital wish list, where underprivileged children and teens could be matched with a volunteer. With a few sentences posted about each child to help connect the donor to the recipient, volunteers found perfect holiday gifts for about 400 children and teens this Christmas.
"It's difficult to get everyone's needs, it's freezing and it's snowing, but we have elves and we are pseudo Santa," said Shumadine.
Volunteers then brought the presents, wrapped, to the drop off where volunteer elves pack the gifts into a garage for delivery.
The Wish List Project no longer only focuses on Christmas. This past Thanksgiving, they collected 75 food baskets for meals.
This Christmas the Wish List Project partnered with six local non-profits and schools: Fairfax Foster Care, Second Story, Shelter House, Buzz Aldrin Elementary, Herndon Elementary, and Hutchinson Elementary.
"The guidance counselor helps to identify kids at the schools who are on reduced lunches that might be a good match for the program," said Shumadine.
Recently, Shumadine was shopping for the Wish List program at Burlington Coat Factory, and the cashier used to be a recipient. Last year the woman sponsored an area youth to be able to pay it forward. She told Shumadine that if it wasn't for the program she would never have had a Christmas as a child.
In the past three years, The Wish List Project has quadrupled in size and Shumadine hopes to keep expanding the impact out into the community. "We are not just for Christmas anymore. Spring break trips are on our list and so is Easter!" she said.