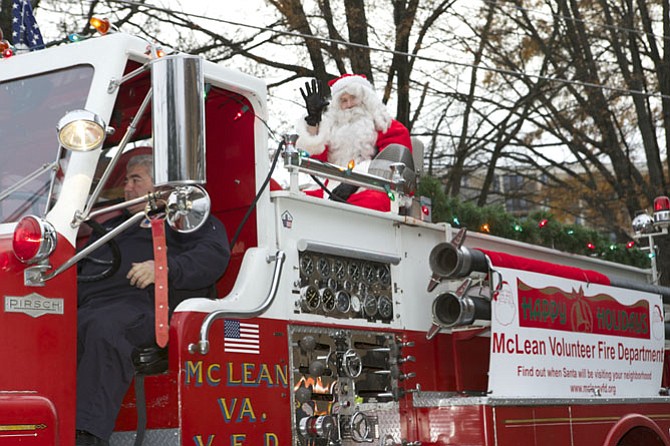 McLean — McLean WinterFest parade will be held Sunday, Dec. 3. To register to be in the parade, go to the WinterFest site at www.mcleanwinterfest.org. View the parade with the slideshow and video from last year's entries while planning for WinterFest 2017, McLean's only community parade.
Again this year, WinterFest will present a check to Share of McLean, the local organization that does so much to help families in need. "We'll be asking parade observers and participants to share their good fortune with those who have fallen on hard times by bringing grocery, pharmacy or clothing store gift cards to the parade for Share," explained Trish Butler, chair of the parade steering committee. "We're also looking for local businesses to become sponsors of the parade to help underwrite the costs. We welcome locals to go to the parade web site to find out more about donor information."
The parade route will be the same as previous years: Old Chain Bridge Road from Fleetwood Road to Elm Street. The parade route will be closed from 2 to 5 p.m. on Dec. 3. Plan ahead for this; the only exceptions to the road closure by the police will be in the event of emergency. There will be no entering or exiting Langley Shopping Center or exiting from other side streets along the parade route during these hours. In addition to the actual parade route, Beverly Road and Fleetwood Road to Old Chain Bridge Road will be closed to non parade traffic starting at 2 p.m.
There is still no fee to be an entry in the parade, but any business or group wanting to participate must register by Nov. 24,

WinterFest 2017 will have food trucks again this year in the Langley Shopping Center: Mama's Donut Bites, Crepe Love and Rockland's BBQ

Peggy Fox from WUSA/Channel 9 will call the parade from the Fairfax County Showmobile situated in Langley Shopping Center. Pre-parade entertainment will be provided by local schools – Chesterbrook, Westgate and Kent Gardens -- and will be introduced by Bill DuBose. Bach to Rock students will perform prior to and after the parade.

The pre-parade entertainment begins at 2:30 p.m.

The parade will step off at 3:30 p.m. sharp.
For more information on WinterFest and this year's rules, go to the website at www.mcleanwinterfest.org.
More like this story