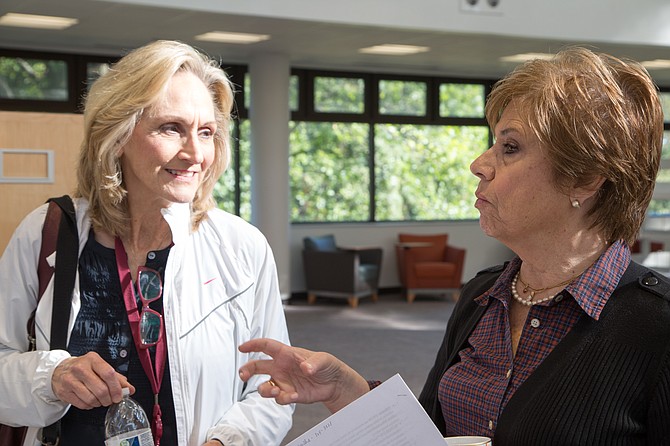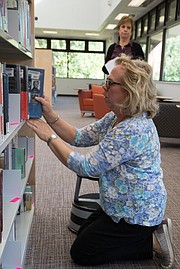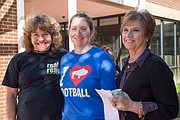 The Tysons-Pimmit Regional Library underwent significant renovation over the last year and a half. It has been closed to the public, but is re-opening its doors Oct. 14 officially, ready to serve the greater Tysons Corner community.
From the outside it is still the same old building, but inside, it has been completely re-done from its former 1980s architecture. Bright spaces fill every corner of the rounded building. New computers are being set up at fresh tables, and the books are returning to the shelves with the help of circulation aides.
Linda Prante, assistant circulation manager has been putting books on shelves for 25 years and is accompanied by Raul Alleyne, who is a circulation aide rookie.
"I always loved this branch and when I get here I feel that I'm home," said Prante. "It's bright and fresh."
The library's $5.61 million renovation under the Leadership in Energy and Environmental Design Guidelines or LEED's, certifies the building's green features. It received a silver rating for using recycled building materials, led lighting, sensor operated water faucets, and efficient ventilation just to name a few.

Daniela Dixon, an Arlington resident and the branch manager came from the Great Falls Library where she was previously for 18 years. As a member of the Tysons Chamber of Commerce, Dixon is excited about the possibilities of having a regional library with a modern look in Tysons Corner which is a booming business and development center.
"There's lots of possibilities and lots of businesses in our backyard," she said.
She toyed with the idea of having community meetings at the library or having library staff present in large apartment building lobbies to spread the word of the library's reopening.
"It's to tell people right down the road, we could be drawing from a broader area," Dixon said.
The remodel has added a quiet study room with cubicles, board rooms for community use, and meeting spaces for the community to take part in the library and hold events. There are plenty of public computers, but more people are bringing their own computers for use on the library's WIFI according to Dixon.
"People who study for a test, to certify them for a change of career, sometimes can't study at home, so they come here," Dixon said.
Bonnie Bockert, children's library manager, is also excited about the redesign and expanded space for the children's center.
"We are really excited for more space, and the kids and families and for people to come and read books," said Bockert. The library also offers a Spanish children's book reading time for non-English speakers.
Several groups donated money for the remodel. The Friends of the Tysons Pimmit Regional Library donated $50,000; $20,000 will go toward a garden that will create a more welcoming entrance to the library.
The library is one of 22 regional and community libraries in the Fairfax County Public Library system.