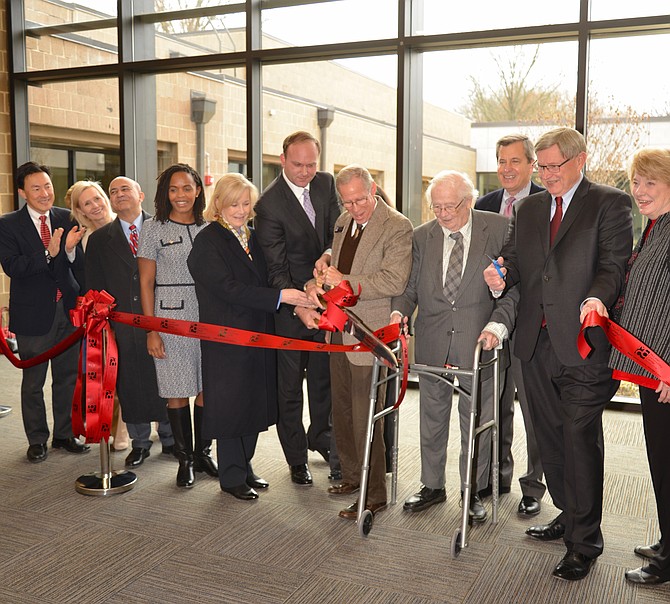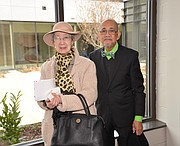 There's still a bit more work to be done before the McLean Community Center (MCC) officially re-opens its doors after more than a year and a half of major upgrades, renovations and additions, but the finish line was well-enough in sight on Dec. 5 to warrant a ribbon-cutting by officials and a tour for those most closely associated with the facility and the project.
Residents of McLean have been asking MCC executive director George Sachs for months "when will we have our grand opening?" Addressing the event attendees before the scissors were taken to hand, Sachs responded that this new-look center was really having a "grand re-opening."
Sachs led the acknowledgement and applause for Robert Alden who was seated in the front row during the welcoming remarks. Alden joined the McLean community as a 21-year-old in 1953 and was the driving force behind the construction of the Center, which hosted its original grand opening in 1975.
Alden and the center's founders saw a need for a place in the community where people could meet to learn and improve their skills and talents, share them with others, and engage in the performing and visual arts, added MCC Governing Board chairman Paul Kohlenberger.
THE CENTER was envisioned to be a place "for citizens to meet, discuss and decide on matters of importance."
In 1970, locals approved $800k in bonds to build that place. The project being completed today, designed by RRMM-Lukmire Architects and built by Sorenson Gross Construction Services, cost "a bit more" – just over $8 million – but "the folks of McLean know sound, good investments, then and now," said Supervisor John Foust (D-Dranesville).
"The people of McLean have always been so good. We know the importance of this building and we wanted to give something back." —Roberto M. Federigan
The Supervisor said that he is often asked by constituents in other parts of his district why they don't have community centers like the MCC. Congratulating the residents of McLean for their vision and commitment, Foust said his answer to that question is easy. "Because the people of McLean are willing to pay extra to achieve this."
Foust spent 25 years in construction claim litigation, so he probably has the credentials to assert that in all that time he has never seen a "construction project of any significance come in on-time and under budget until this one."
Sachs said that with the partnership of the architect, builder, the county, a dedicated staff and a host of other supporters, the people of McLean got quite a lot for their money.
The improvements begin right at the entrance to the facility on Ingleside Avenue.
"We've improved the entryway – and the lights are now working," he reported. The outdoor pathways will now also be lighted.
About 7,700 square feet of space have been added, including two new meeting rooms and a multipurpose room that will allow the center to offer more programs to a larger number or participants. Another 33,000-plus square feet were improved upon.
Office space was consolidated in the renovation, with most staff located near the center's entrance. Performing arts staff will be the exception, with their offices located on the lower level near an entrance to the theatre.
Before the re-do, "we had people all over the building," said Sachs, "even using storage rooms and coat closets" as work spaces.
Some of the improvements may not be so visible, but greatly enhance safety and security, including stormwater management and filtration systems that run under the parking lot.
"We've certainly been tested of late," noted Sachs, referencing the record rainfalls of 2018, and "so far, so good."
The lobby is the area where visitors will immediately notice the most change.
THE SPACE has been dramatically opened up and now features a reception desk to welcome patrons and where registration for facility events and classes will now take place. Pre-renovation, the lobby was faced by a large wall. Now, as visitors gather in the area, they are offered a panoramic view of the center, and are greeted by a floor-to-ceiling glass-enclosed courtyard with benches and inviting greenery.
This addition was made possible by a generous donation from McLean residents Roberto and Gloria Maria Federigan. The couple have lived in the community for 40 years. "Our children had many opportunities and good experiences here," said Mr. Federigan. "The people of McLean have always been so good. We know the importance of this building and we wanted to give something back."
Open House on Jan. 5
The Community Open House is scheduled on Saturday, Jan.5, 2019 from 11 a.m. to 2 p.m., when the public is invited to take a self-guided tour through the new facility, join in some class demonstrations and get a sneak preview of 2019 events. There will also be a free "McLean Be Fit" Health Fair during the open house, with free health screenings and lots of health related information and resources.
As executive director George Sachs said, the McLean Community Center is not quite there yet, "but we're almost home again."