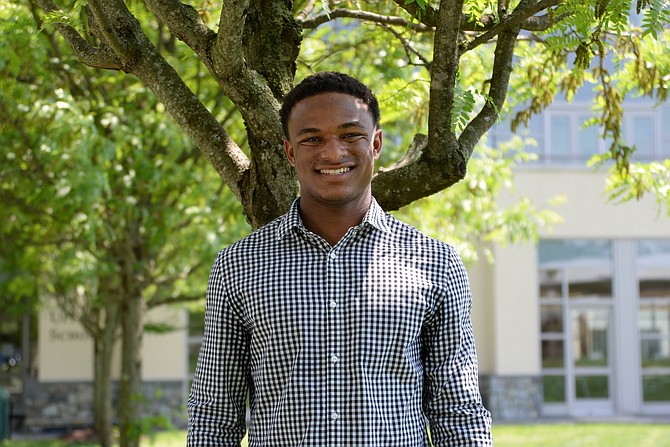 Junior Achievement of Greater Washington recently announced the winners of its 2017 Junior Achievement Essay Competition. Potomac School senior Mike Grimes was selected as the second-place winner in Virginia. He will be awarded a $10,000 scholarship for this accomplishment.
The essay prompt was "Several great entrepreneurs, including Bill Gates and Mark Zuckerberg, dropped out of college before getting their degrees. How important do you think a college degree is to your future success?" More than 1,100 students across the region submitted essays in response. They were judged based on creativity and originality, persuasiveness, grammar and spelling, understanding of the subject matter, and relevance of the response to the topic question.
Grimes, who lives in Washington, D.C,. wrote about the "10,000 Hour Rule," cited by Malcolm Gladwell in his book "Outliers," which posits that approximately 10,000 hours of practice is required to become truly expert in any skill or area of endeavor. Grimes asserted his belief that college is a place to begin acquiring this extensive experience – a place that offers "access to teachers, technology, and other resources critical to reach mastery."
This fall, Grimes will be enrolled in the College of Charleston's Honors College. He plans to major in finance and commercial real estate and minor in entrepreneurship. He will reside in the college's Entrepreneurship Living Learning Community, where he will have daily interaction with students with similar interests.
At Potomac, Grimes plays point guard for the varsity basketball team and is involved in peer leadership activities, serving as a mentor and role model for younger students.
Founded in 2008, the Junior Achievement Essay Competition is sponsored by David M. Rubenstein. First-, second-, and third-place winners are selected from Maryland, Virginia, and the District of Columbia, and each of these winners is awarded a $10,000 scholarship.
One grand-prize winner is selected to receive a $20,000 scholarship. All of the scholarship recipients were recognized by Junior Achievement and Mr. Rubenstein at a private awards ceremony, held this year on May 21.
More like this story