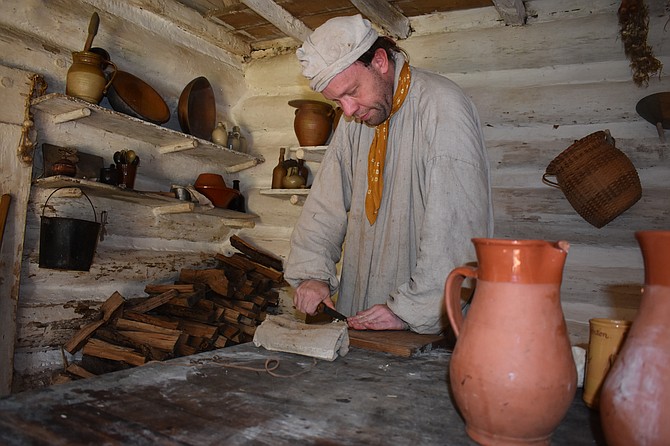 With a long stick, Philip Hosea prods the fire, ducking his head as he leans into the fireplace. He is dressed head to toe in clothes that poor tenant farmers would wear in the 18th century: a linen shirt, work smock and breeches, complete with buckle shoes and wool socks, despite the summer's heat. This scene, which looks like it's been taken straight out of 1771, is part of the living history experience at Claude Moore Colonial Farm in McLean, where Hosea works as a historical reenactor.
"I'm reading, researching, practically constantly," Hosea said. "It's quite a bit, but it's very much a labor of love."
The National Park Service has said Claude Moore will close Dec. 21, but the Farm is fighting to stay open. If the Farm closes in December, Hosea will lose his job and seek a similar type of employment elsewhere.
But this is a risk Hosea was aware of when in July, after years of volunteering at Claude Moore, he accepted the full-time job of being an 18th century farmer.
"Despite knowing there was this December deadline and there was a possibility of the Farm closing, I still wanted to work here," Hosea said. "So that's how much I believe in the Farm."
THIS DECEMBER DEADLINE was imposed by the National Park Service after fruitless negotiations to work out a new agreement for Claude Moore's operation. The Farm's original 30-year agreement expired seven years ago, and has since been extended on short-term agreements during negotiations.
Ultimately, the Park Service presented the Friends of Claude Moore Colonial Farm with its standard agreement, but the Friends felt they could not operate under its terms.
"We looked at it and we said, 'That will kill the park,'" said Virginia Norton, president of the Friends. "'That will flat kill the farm.'"
Elliott Curzon, a member of the Farm's board of directors, said the proposed standard agreement would have reduced the Farm's ability to generate income and also prevented long-term planning, since it was only a 10-year agreement. In particular, the Farm wants to upgrade the bathrooms and install a sewer system.
"It's a substantial investment, which we're prepared to make, but we don't want to make it if we can't get a long-term agreement," Curzon said. "It just makes no sense from a capital investment standpoint to invest the hundreds of thousands of dollars the sewer system would cost if it's likely to be taken away from us in less than 10 years."
When the Friends refused to sign the agreement, the Park Service communicated that the Farm would be closed on Dec. 21. At that time, the entire site is to be vacated, leaving only the empty buildings.
When Norton was nominated to be president of the Friends last fall, she told the Friends that she would accept the nomination under one condition.
"And that is that we use every avenue available to us – legislative, administrative, private, public – whatever it takes to keep this farm open," Norton said.
Since she became president, that is exactly what the Friends have done. They are speaking to community groups, including local Rotary Club and DAR chapters, posting on social media and talking to the press. About 7,800 people have signed a change.org petition to Secretary of the Interior Ryan Zinke called "Save the Claude Moore Colonial Farm."
Legislation introduced by U.S. Rep. Barbara Comstock (R-10) would allow the Farm to continue operating past the end of the year.
Norton said the Friends hope that the bill will be passed by October.
Curzon believes the Farm is important because of the way it differs from other history museums in the area, such as Mount Vernon, which show how the wealthy minority lived.
"It is a well-loved, award-winning, living history museum that depicts the life of a low-income colonial family," Curzon said. "And it's unique in that aspect because most other living history museums of that type usually depict wealthy families."
Local schools take advantage of this learning opportunity each year as students go to the Farm for field trips.
"On any weekday that the Farm is open during school season, you will see a school bus parked here with schoolchildren and their chaperones, touring," Norton said. "This is our big educational raison d'etre: we educate the schoolchildren."
THE FARM offers a learning experience for more than just young children. According to Dean Howarth, former McLean High School teacher, Claude Moore served as a "learning laboratory" for his living history students, who went to the Farm to learn techniques for historical reenactment.
"I always just thought it was a noble enterprise, even though it was a small-scale operation, to keep that historical aspect of Northern Virginia alive at a time when everywhere you look, neighborhoods are changing and skyscrapers are popping up," Howarth said.
Before the Farm was there, that land was used as a federal dumping ground. Thirty-seven years later, the site has been cleaned up and is now home to chickens, turkeys, cats and pigs. Three times a year, the Farm draws crowds for its market fair, where visitors can experience what a market would have been like in the 18th century.
"We've already come so far," said Phillip Hanson, book shop manager at the Farm. "We've been here almost 40 years. Think of the things we can do with another 40."