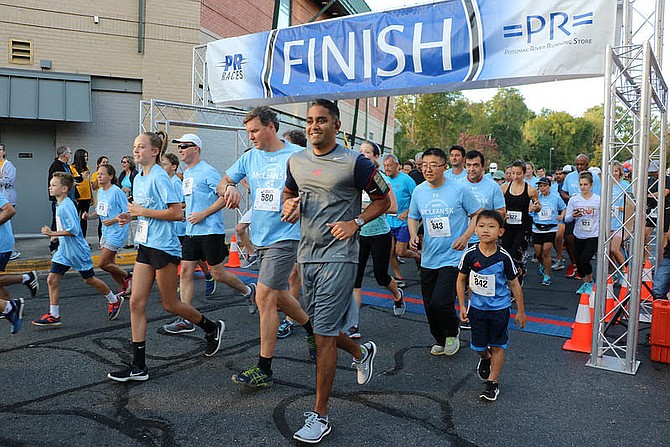 The McLean 5K is set for Saturday, Oct. 6, at 8 a.m. This is the tenth time the event has been held in McLean. Organized by the McLean Community Center, the Greater McLean Chamber of Commerce and lead sponsor Century 21 New Millennium, the goal is to bring together local citizens, organizations and businesses on the streets of McLean and to raise funds for local philanthropy through the McLean Community Foundation.
The certified course has been set through the heart of McLean and is designed to appeal to runners and walkers of all abilities. A great reason to participate is the support for local non-profits. Thanks to the sponsorship of businesses which will cover the event costs, proceeds from the McLean 5K will benefit the McLean Community Foundation, the local charity that supports all things McLean. The very first McLean Community Foundation grant was in 1981 and purchased telemetry equipment for McLean's first rescue vehicle, enabling it to communicate directly with hospitals. Since then, MCF has funded everything from hospice beds to trucks for SHARE to playgrounds to social services, the arts and more. MCF's goal is to fund projects that enhance the quality of life in McLean, to encourage other acts of local philanthropy and to support projects that serve the community.
New to this year's event is a team competition. Teams of ten are encouraged to register under a team name and raise money for MCF, competing against other teams for prizes for every member of the team that raises the most money. Race winners will receive great prizes, too. The top overall male and female winners will receive a 7-day Wyndham Vacation anywhere in the world. Additionally, one random bib number will be drawn for a third vacation winner.
In addition to exercise and camaraderie, the event will promote Public Safety Appreciation and serve as an opportunity to express appreciation and respect for the first responders from the McLean Volunteer Fire Department and McLean District Police Station. "This is an opportunity to come out, shake their hands and let them know we are grateful for the outstanding work they do to keep us safe," said Janet Tysse, President of the McLean Community Foundation.
To register yourself and/or your team, go to McLeanCommunityFoundation.org.