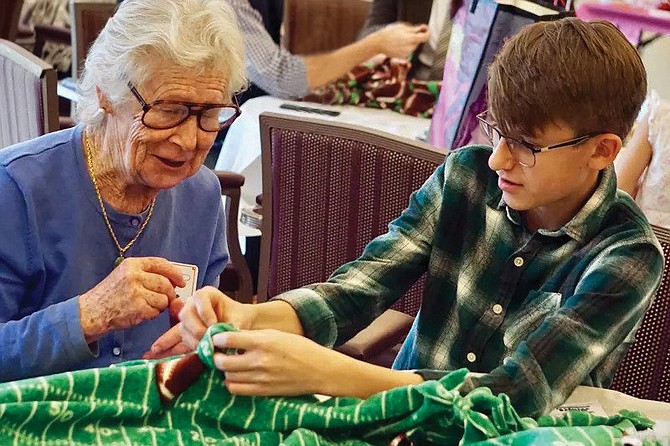 On Jan. 27, nearly 150 individuals, from kindergartners to octogenarians, took part in The Potomac School's third annual Intergenerational Valentine's Day Service Event, hosted by Vinson Hall Retirement Community. The participants included Potomac families and older adults affiliated with Vinson Hall and the McLean Community Village Association. Working together, they assembled 60 care packages for military personnel convalescing at Fort Belvoir Community Hospital. Among the items included in the packages were knot-edged fleece blankets and cheerful Valentine's Day cards – both made by hand at the event.
The school's Parent Association Service Learning Committee organized the event, and Potomac parents donated their time and talents, as well as the necessary supplies, to make it successful. First grader Henry Feder was an enthusiastic participant, as were his mom, Sara Feder, and grandmother, Judy Feder. Reflecting on why their family decided to take part, Sara said, "It's important to let members of the military know that we appreciate them, and this event is one way to do that. Plus, it's fun for people of all ages to get together to do service!" Judy agreed, noting, "It's a pleasure to do service with my daughter-in-law and my grandson."
Potomac parent Gia Cillizza spoke of a personal motivation that resonated with many of the event participants: "My dad and grandfathers served in the US Army and the US Navy. We want to show current members of the military how much we appreciate their service." Vinson Hall resident Bitsy Kotite concurred, noting, "My husband served in the US Army for 33 years, and my son was a student at The Potomac School for four years. So I came today to support both groups."
The military connection was underscored in remarks by Major Alan R.M. Boyes of the Defense Intelligence Agency. He spoke about the rehabilitation work being done at Fort Belvoir Community Hospital and noted how much the care packages would be appreciated.
The event was also a reminder of how rewarding service can be. Robyn Lighthammer, a McLean Community Village Association board member, reflected, "There is a natural curiosity in the heart of a child and infinite wisdom in the heart of a senior, and intergenerational programs bring these kindred spirits together! Seniors benefit greatly from opportunities for engagement and service, which ultimately reaffirm a greater purpose in life."
Potomac second grader Sofia Elrefai shared, "At our table, we made three blankets for the soldiers! That was the best part." Fifth grader Claire McEwen reflected, "For me, the best part was making the Valentine's Day cards. When you decorate a card, you think about the person who will get it and you feel thankful."