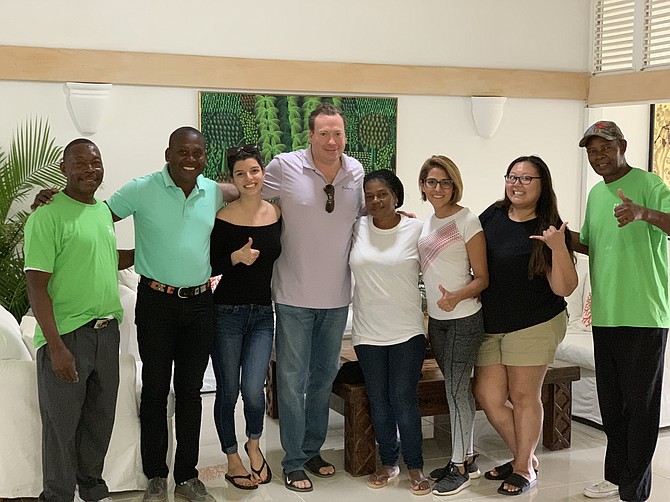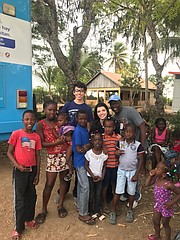 On Jan. 26, 2019, a team from team Virginia Oral, Facial & Implant Surgery of McLean flew from Dulles Airport to Punta Cana, Dominican Republic.
The excitement from the team was palpable, yet this being the team's first medical mission trip, there was a little fear of the unknown. We were greeted by our contacts from the mission and oriented on how the week would flow. As the next morning arrived, so began the journey. The team drove to La Romana to deliver oral and maxillofacial surgical care to those in need. World Mission Partners (http://www.worldmissionpartners.org), a non-profit 501 (C)-3, coordinated the logistics of our mission trip. In La Romana, we treated both children and adults of Dominican and Haitian background. The current state of the infrastructure and quality of life in Haiti is still dire. After the earthquake which devastated Haiti in 2010 followed by a tsunami, many people fled to neighboring Dominican Republic to seek refuge. Many Haitians are living in the Bateyes (small villages) and work in the sugarcane fields. There are several hundred Bateyes in La Romana and these Haitian residents have not had any medical or dental care since they have arrived. A majority of the treatments and patients, during our trip, were performed at The Good Samaritan Hospital. (http://www.laromana.org)
In order to provide the medical attention needed for the Haitians in the Bateyes, we traveled to them in a medical RV that was outfitted with 2 treatment rooms. The Bateys do not have running water so this was mandatory in order to provide care. We also knew the residents there lack the funds and ability to travel. We were able to treat many adults, most of whom have been living in pain for months by performing extractions under local anesthetic.
Approximately 50 children were also provided prophylactic care with a caries preventing varnish by our team. In the dental clinic and the operating room, at the Good Samaritan Hospital, we performed dental and facial surgeries of varying kinds and our assistants also provided dental cleanings for most of these patients as well.
In the variety of surgical patients Dr. Gocke met and treated, there are two that we would like to share as an example of what was encountered. Dr. Gocke met, examined and diagnosed an 18 year old Hatian female with an ankylosed TMJ (jaw bone fused to the skull). She has not been able to open her mouth since birth and is deformed because of it. The basic function of eating is not possible for her except for a small space between her teeth in which she consumes only liquids and pureed food. She is underweight and has been teased by the other kids her age because of this condition all her life. The main hospital in Santo Domingo declined care to her because of the complexity of her condition. Dr Gocke will be flying back as soon as possible with the proper treatment planning and equipment (which will be significant) to replace her joint with a prosthesis, perform jaw surgery to restore function to the jaw and to make her face more symmetric and harmonious. He may have to remove a rib in order to create a jaw for her as well. She also has an infected tooth which cannot be accessed because she cannot open her mouth which can be a life threatening condition for her. This patient's condition deeply affected the entire team. Dr. Gocke has decided to do what he can with his expertise to help her in any way he can to improve the quality of life for this young lady.
In another case, a young Dominican man, with pain for 6 months, presented with a tumor of his jaw. In the hospital operating room, under general anesthesia, Dr. Gocke resected the tumor. The patient had to lose 8 teeth and a large amount of bone, as part of the resection. This tumor was approximately the size of a ping pong ball. Once he has healed and the cancer has remained clear, Dr. Gocke will return to reconstruct his jaw with bone grafting from his hip. Eventually, he will be replacing his teeth with dental implants and hoping to give him a second chance at a normal healthy life.
This trip was a great success and we would like to thank all of our supporters. As you can imagine, this trip was a true journey. We feel humbled and grateful to have the opportunity to serve our fellow mankind. Ours souls feel nourished and full of gratitude. We are particularly grateful to our family members who supported us on this venture. This would not have been possible without them. We would also like to thank our our surgical supply vendors who donated many disposable supplies. We thank our Virginia patients who donated clothes, toys, hats and sandals. Lastly, we are especially grateful to our friends and family members who made cash donations. Everyone involved was a part of changing a person's life for the better! May we all continue to strive to make our communities and world a better place. Thank you all for being a part of this and making an impact on this life-changing care.
Team Members
Dominican Republic Trip, January 2019
Virginia Oral, Facial & Implant Surgery, McLean.
Dr. Michael Timothy Gocke, DDS, Oral and Maxillofacial Surgeon
Michael Gocke – Doctor's 15-year-old son
Alejandra Castillo – Surgical Assistant
Michella Saad – Surgical Assistant
Julie Banalja – Surgical Assistant
Assistance Provided
8 Extra Large duffle bags
175 pounds of equipment and supplies
175 pounds of clothing, toys, hats and sandals donated
Treatment for almost 100 people