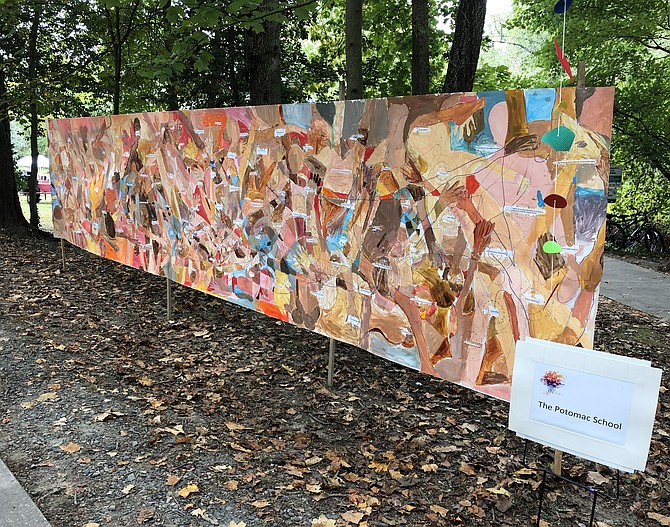 On Sunday, thousands of McLean ArtFest visitors were greeted by board members of the McLean Project for the Arts, and led down a pathway of colorful artwork done by students at various local elementary schools. Featured along the walkway was artwork from the Haycock, Chesterbrook, Lemon Road, Country Day, Potomac schools and more.
A mural painted by students at the Potomac School attracted many visitors, for its interlocking hands of every skin tone, with anonymous quotes from students scattered over the painting. The remarks were diverse, sharing qualities like, "English is the only language I speak fluently," or "I speak many languages at home." Quotes were thoughtful and revealing such as, "I believe the countless little things we do today to preserve the earth will matter tomorrow," "I hold onto grudges," and "I was unkind to someone in the last week." Introspective work such as this was found consistently throughout ArtFest.
ArtFest was brought to the community by the McLean Project for the Arts, and has been returning for 13 years now. The MPA is a nonprofit organization that began as a group of women artists looking to provide opportunities for other local artists to exhibit their work to the community. Since 1962, the MPA has evolved into a valuable resource, sharing high-quality work with McLean and educating and instructing the community on concepts in visual art. An event for people of all ages, artists came to ArtFest from all over the mid-Atlantic region to showcase their work; two artists came from as far as South Carolina and upstate New York.
One of many impressive artists at ArtFest was Mirko Congiu, who was joined by his daughter Teresa, 9. An animator turned photorealistic painter, it was hard not to look in complete awe at Congiu's paintings. A customer came into the tent and joked, "We have coffee with you every morning!" referring to the fact that they own a copy of a popular piece, Congiu's own self portrait. The process of a photorealistic self portrait was quite the undertaking, as Congiu shared that he painted his self portrait in front of a mirror and then scanned the painting into Photoshop where he flipped the image to better resemble how others might see him. Another painting hung in his tent, one of his daughter looking pensive out the window of a school bus on one of her first days of school. Congiu treasures capturing the beauty in a completely natural moment and loves the many expressions of the human face. He said that, "You can tell by her face that she is full of anticipation, maybe apprehension, about going to school… If I can paint the exact expression, then their face can tell the whole story of the picture."
Deb Bissen, the MPA's Director of Communications and Development, shared her appreciation for "such support from the community at [ArtFest]." She went on to thank the schools and artists that participate, the local musicians that play, the board members who work so hard, and every single visitor that made their way around the park. Bissen and the rest of the McLean Project for the Arts concluded the day feeling "lucky to have such a generous community that allows events like this to happen."