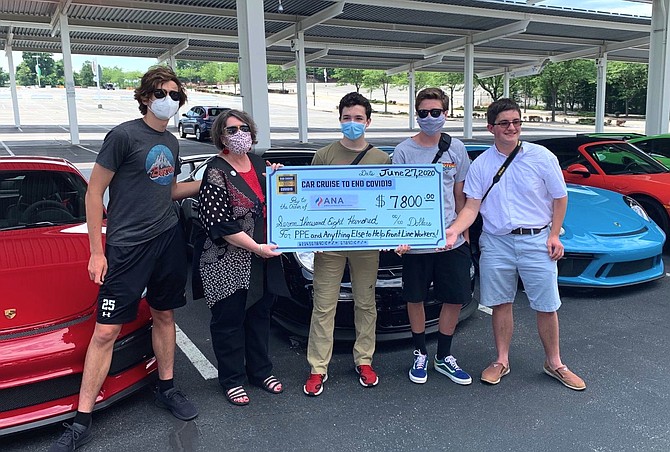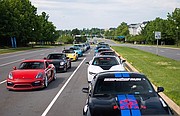 In April, Andrew Morin, Eric Mical, Tommy Zavrel, and Peter Hayes, all between 16 to 17 years old, started organizing the Car Cruise to End COVID-19. The car cruise raised donations for the American Nurses Association (ANA) and attracted roughly 150 cars and 300 people from across the DMV area and beyond.
The idea for the event first started when the teens noticed an issue with funding for nurses. Zavrel recalls that Mical suggested a car show and the pair discussed and arrived at the idea of a car cruise.
"We thought 'hey, nurses need help' and these car cruises are already socially distant by nature because everyone's in their own car... So we decided to make it for charity."
In order to register, drivers were required to donate to the ANA website. Zavrel says the car cruise raised $7,800 in total, which was presented to the vice president of the organization at the end.
"People went on the website and made a donation on behalf of a company (the name of the cruise). Then they just took a screenshot of the little receipt they got and just showed that to us."
Zavrel recounts that the car cruise route had to be changed multiple times because of the size of the crowd and traffic generated.
"We first wanted to end it on Gibson Island in Maryland but that didn't work because it got too big and we wouldn't even fit on the island...The greatest obstacle was just keeping up with the number of people that wanted to come."
Ultimately, Zavrel says the Car Cruise to End COVID-19 reached its goal to raise money for a problem he and his friends noticed.
"We just wanted a way to bring the community together and we wanted to help out the nurses."