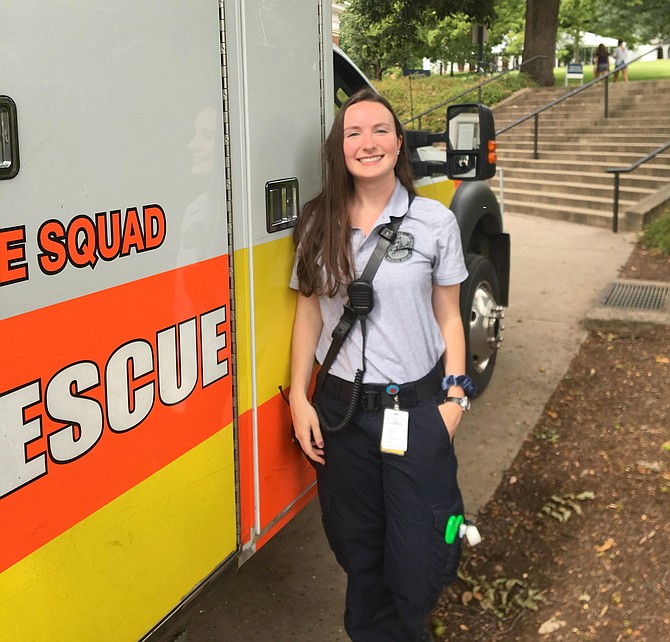 When Claire Dalby of McLean envisioned her last semester of college she certainly did not expect it to end like this.
Like many other college students, Dalby is struggling to come to terms with having her final weeks at the University of Virginia stripped away from her, due to COVID-19.
"It was definitely stressful to have all of my last semester plans cancelled, because a lot of that was stuff that I was really looking forward to," Dalby said. "And it is definitely stressful to know that there are a lot of people that I probably won't see again, or probably won't see for at least a couple of months."

Instead of making final memories with her college cohort and visiting some of her favorite Charlottesville hangouts one last time, Dalby spends most of her days completing online classes and volunteering at the Charlottesville-Albemarle Rescue Squad.
DALBY works as an emergency medical technician for a minimum of 12 hours a week, plus a 24-hour Saturday shift every six weeks. Due to COVID-19, Dalby and her coworkers have faced a number of adjustments to their safety protocol.
One of the main changes is that crewmembers are now being required to wear face masks, gloves and goggles for every call. Immediately following their shifts, workers must change out of their uniforms. And when it comes to limiting exposure among crewmembers at the station, only essential workers are allowed inside the building at all times.
But for Dalby, it's all part of the job.

"Honestly, rescue is a stressor, but it's also not at the same time," Dalby said. "It's nice to feel like I'm able to change something and that I'm able to help."
Madeleine Engel, another volunteer EMT and UVA student, said that she is grateful to have support from the Charlottesville community during such an unprecedented time. Thanks to donations, workers are not at risk for a shortage of personal protective equipment.
"We were given cloth masks, enough for everyone on the rescue squad I think," Engel said. "I know everyone is very grateful for the donation. We wear them at all times at the station, except when we are eating."
And after months of social distancing and lifestyle changes for many, recent headlines suggest that a gradual return to normalcy may be in sight for the state of Virginia.
Virginia Gov. Ralph Northam (D) said that he would likely ease some of the state's restrictions as early as May 15.
For Dalby, it's hard to imagine what life will look like when the stay-at-home order is lifted.
"I think that people are going to be a little bit wary for a long time," Dalby said. "Social distancing has become such an ingrained part of our culture by this point. I feel like it might be a little bit hard to go back to normal right away."
IN THE MEANTIME, Dalby continues to keep herself grounded in her schoolwork, medical school applications and EMT shifts. She also continues to keep in touch with college friends online and through phone calls.
"I think it's definitely hard for college students, because we're so used to being around everyone all the time," Dalby said. "But, luckily we're able to call each other and hear from each other and often, which makes it easier to keep in touch and make sure everyone's staying sane."
Dalby optimistically awaits the start of her next chapter. If all goes according to plan, the fourth-year UVA student will cap off her collegiate career in October, when the university plans to host its Final Exercises for the Class of 2020.