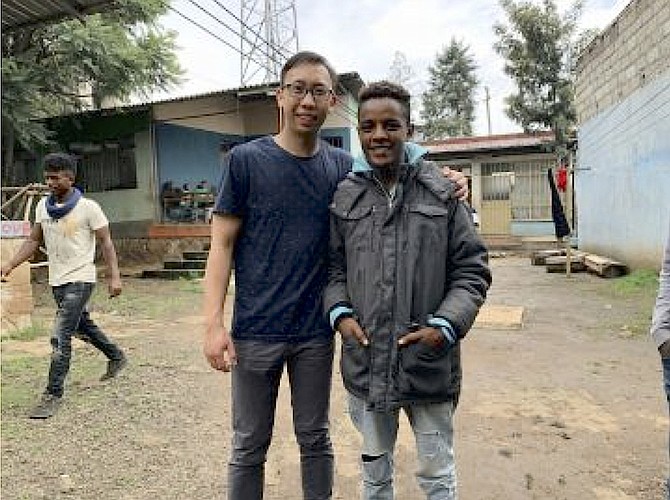 In 2018, 20-year old filmmaker Josh Leong of McLean traveled to Ethiopia on a mission trip with McLean Bible Church. During his time in the country, he created a documentary series on Ethiopia's abandoned children crisis with Olivia Fournier, another DMV peer. Due to poverty, HIV, chronic illness, and lack of female empowerment programs, there are 5 million vulnerable children in Ethiopia ranging from infancy to 18 years of age. Hundreds of private orphanages have closed due to lack of funding, resulting in millions of vulnerable children often living their entire lives on the streets.
DURING HIS STAY in a boys orphanage, Leong befriended a 17-year old orphan boy named Abel. He learned that Abel would have to leave the orphanage when he turned 18, leaving his younger brother behind. Deeply touched by Abel's story, Leong returned to the US and began his freshman year at the NYU Tisch School of the Arts. In February 2019, he decided to write a film about Abel's life. Alongside first-year classmates including Sofia Bara (producer) and Tom Ingwersen (cinematographer), Leong and team spent the next six months in pre-production for "The Other Side, a narrative short inspired by Abel's true story – all while 7,000 miles away.
In early May, Ethan Herisse officially signed onto the project. Herrise was starring in "When They See Us,"an Emmy-winning Netflix series directed by Ava DuVernay, set to release on May 31. Herisse was also nominated for Best Supporting Actor at the NAACP Image Awards, alongside Mahershala Ali and Idris Elba. His involvement ultimately paved the way for casting Wayna, a Grammy-nominated Ethiopian recording artist – also based in the DMV.
In July 2019, a small student crew from the U.S. travelled to Addis Ababa, Ethiopia to film for 14 days. Collaborating with local Ethiopian cast and crew, including Ethiopian producer Bemnet Yemesgen, the team filmed in the same orphanages Leong visited in 2018 and even reunited with Abel again. The crew also worked alongside NGOs, including D.C.-based Orphan Care Ethiopia and Great Commission Ministries, who work to support orphanages in the country. Returning from Ethiopia, the crew collaborated with Oscar-winning post production studio, The Mill, and Upper West Sound. The film was also co-scored by Sam Gryzwa and Gavin Brivik, composer of the Netflix series, "Living Undocumented," from producer Selena Gomez.
THE OTHER SIDE seeks to raise awareness for Ethiopia's abandoned children crisis through narrative film, and the team is currently seeking partners for the development of a feature-length version of the film. The film has reached the eyes of Ethiopian Ambassador Fitsum Arega, as well as the Ethiopian Embassy in Washington, D.C. The nation's capital is actually the second largest Ethiopian city in the world (by population), behind Addis Ababa.
The film has been accepted into 10 major festivals (4 Academy Award®-Qualifying), winning Best Short at the Greenwich International Festival. "The Other Side" enjoyed an NYC Premiere at the Urbanworld Film Festival and an LA Premiere at the Los Angeles Asian Pacific Film Festival, in partnership with HBO and WarnerMedia. The film was also included at the 2020 Cannes Film Festival Court Metrage.
The Other Side
Premiering online Nov. 20. Details on social media and at: https://www.theothersideshortfilm.com/
Official Trailer: https://vimeo.com/445092137/129d295b4d
Instagram: https://www.instagram.com/theothersidefilm2020/
Facebook: https://www.facebook.com/theothersidefilm2020
Josh Leong: https://www.joshleongstudios.com