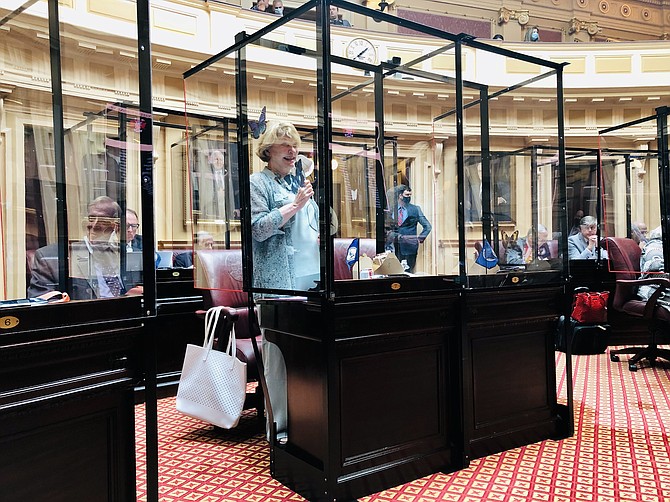 In the 1985 hit movie "Brewster's Millions," Richard Pryor is given the task of spending $30 million in 30 days. Hijinks ensue. In some ways, that's also the plot of the General Assembly session this week. But the stakes are bigger, and the jokes aren't as funny.
Lawmakers are working their way through appropriating $4.3 billion of stimulus cash from the American Rescue Plan. Most of the money was already earmarked before lawmakers arrived in town as Gov. Ralph Northam made a series of announcements outlining his priorities. Each of those announcements indicated a tacit agreement between House Democrats and Senate Democrats and the governor's office.
The biggest item on the list of spending items is a huge infusion of cash into the Unemployment Insurance Trust Fund, pumping $862 million into the fund in an effort to prevent tax increases on businesses in 2022. Because the trust fund is usually replenished by taxes levied on business, they would have been on the hook for restoring it. But the infusion of cash from Uncle Sam means taxes won't go up for business owners.
"Shoring up the commonwealth's unemployment insurance trust fund is a smart investment that will prevent Virginia businesses from paying higher taxes and allow our economy to continue surging," said Northam in a written statement announcing the proposal. "Together with the General Assembly, we are taking important steps to ensure Virginia remains a place where businesses, workers, and families can all thrive."
The proposal was viewed by some critics as a gift to big business at a time when many people are struggling to make ends meet, yet another sign of how the new Democratic majority in the House and Senate are often business friendly to the detriment of working families. Some people said the dollar amount set aside to help business owners next year could have been better spent by helping people in need now.
"That's the kind of thing that we think should be balanced against some of the immediate needs," said Chris Wodicka, senior policy analyst at the Commonwealth Institute for Fiscal Analysis. "There are trade offs involved and there are differences in terms of timing of when certain benefits would really affect whoever would be impacted by the proposal."
"With so many competing interests, the balancing act is never easy."
— Sen. Janet Howell (D-32), chairwoman of the Senate Finance and Appropriations Committee
Lawmakers are also spending $700 million to expand access to broadband internet; $312 million to improve HVAC systems in public schools; $250 million for Rebuild Virginia grants to help small businesses; $125 million to modernize sewer systems that dump raw sewage into rivers and streams (including the one in Alexandria); $20 million for bonuses to law enforcement officers; $10 million for food banks; and $10 million for substance abuse treatment services.
"With so many competing interests, the balancing act is never easy," said Sen. Janet Howell (D-32), who is chairwoman of the Senate Finance and Appropriations Committee.
The appropriations bill also allows lawmakers an opportunity to set some new policies as budget language, creating a new requirement for landlords to apply for rental assistance from the Virginia Rent Relief Program before evicting anyone. Sen. Chap Petersen (D-34) tried to create an exemption for small-scale landlords who have a handful of properties. When asked about his budget amendment, Petersen said landlords should not be forced to apply for rental assistance.
"You seem to think that applying to the federal government is no fuss no muss, and they'll just open up your application and write you a check that day. It doesn't work that way," said Petersen. "The landlord oftentimes wants the property back because you're dealing with a situation where you have someone who's not paying rent. That's not a healthy situation if you're a landlord."
Most Democrats don't share that view.
"This should not be used as an opportunity to get rid of anyone," said Del. Cia Price (D-95). "Get your money, and then let's move forward."
Republicans tried and failed to make several amendments to the spending plan, offering a number of potential changes as the spending bills moved through the House and Senate. One of the Republican amendments was introduced by Del. Jason Miyares (R-82), who is also on the ballot for attorney general this fall. He introduced a budget amendment that would have given the attorney general authority to prosecute straw purchases of firearms.
"If you want to lower gun violence in Virginia, where well north of 80 percent of crime is done by repeat offenders, you get the repeat offenders off the streets," said Miyares. "You go after those who are trying to traffic and buy guns illegally and you put them behind bars and off our streets."
That amendment, along with every other proposal from House Republicans, was defeated by the Democratic majority. Many Democrats said that it was noteworthy that Miyares voted against all the gun-violence prevention measures last year but now wants to use the special session to crack down on straw purchases. Some questioned the need for creating new authority for the attorney general and the timing of the proposal.
"If Delegate Miyares wants to use the budget and this session as an opportunity to film a campaign commercial, it's certainly his prerogative. He wouldn't be the first one to do it," said Del. Marcus Simon (D-53). "As far as I know this has not been an issue that is under-prosecuted or people get away with anything here."