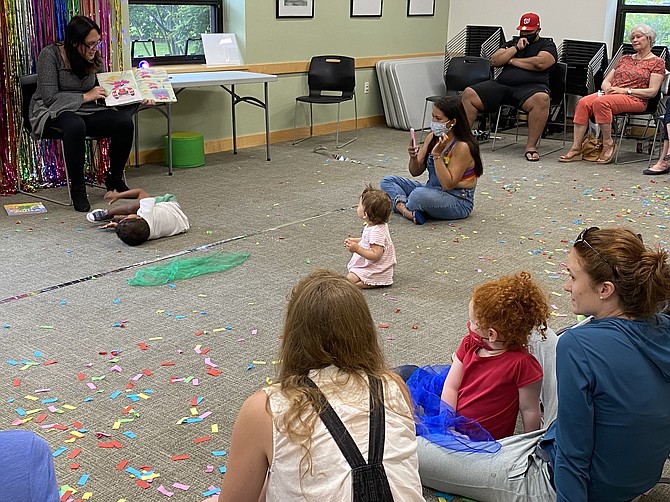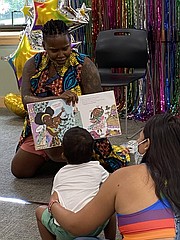 Fairfax County Public Library co-hosted, with McLean Community Center, "Drag Queen Storytime" held in two sessions at Dolley Madison Library on Saturday morning, June 26 at 10:30 and 11:30 a.m. The 40-minute events featured three presenters, who introduced themselves by the chosen drag queen names, using only the first one.
Before the 11:30 story hour began, the presenters provided remarks in an interview about the event. "My effort is to let everyone know that there's a place for them, even if they feel left out or feel different," Persephone said.
Majic said that working with children regularly, they know how excited the children can get when they see different things, colorful things, and feel happy. Kaamani said she had no hesitation to be part of Drag Queen Storytime, "We are here. We are queer. I'm here for the future kids. They need to know they belong in whatever lines they belong to."
Branch Manager Mary Prisbrey kicked off the second session, thanking the McLean Community Center for helping them host the event.
Presenter Magic read the book "Just Add Glitter" by Angela Di Terlizzi. It is the story of a little girl that sprinkles glitter everywhere. "Has the rainy day got you down? Not feeling fancy in your gown? Just add glitter," Majic said.
Before Persephone read her book "Neither" by Airlie Anderson, she said, "I am a nonbinary woman…I'm a normal woman that gets to define what that means to me." Persephone said that the book she was about to read was "very special." "It reminds me of my childhood, some of the difficult times that I've had, finding my place in the world."
"Once upon a time, there were two kinds: this and that, these and those, one or the other. Until Honk. What kind are you? I'm both. You can't be both. You must be neither," Persephone read.
Kaamani read the children's picture book, "The Boy & the Bindi" by Vivek Shraya. It is about a young boy fascinated by "the dot" his mother wears on her forehead. "What is this dot I want to know… It's not a dot, says my Ammi. It's not a spot. It's a bindi," Kaamani reads. His Ammi gives him one, and as he wears it, he watches people's reactions.
Drag Queen Storytime is not new to the Fairfax County Public Library. On Oct. 2, 2020, FCPL posted on Facebook, "We've received questions about a proposed Drag Queen Storytime. As with all FCPL programming, we encourage parents & caregivers to attend the events they wish. This storytime is an established program aligned with the American Library Association's key action areas of diversity and equitable access. To learn about a similar program, check out this news story: https://www.pbs.org/newshour/show/drag-queen-story-hour-offers-a-different-kind-of-page-turner?fbclid=IwAR1SVxZb-rScsUcta8ODbB3eVau6pL7CqiCaUjQwb901hd_Qv9anwUisADQ
Fairfax County Public Library tweeted, "As #PRIDE2021 wraps up, join us virtually Monday evening for our Rainbow Families Storytime. Designed for ages 2-7 with an adult, these inclusive, affirming stories and songs celebrate rainbow families, self-expression, and Pride Month."