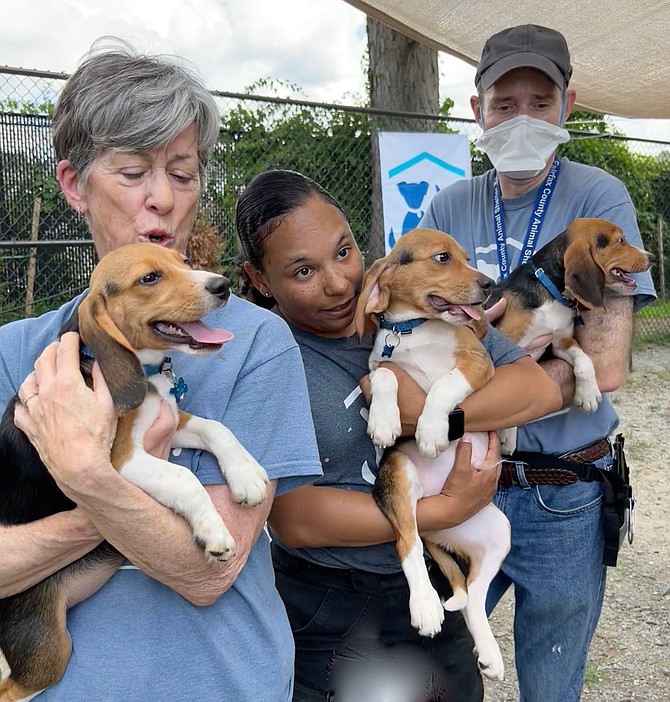 Sniffing out the prospects of finding love connections, Beagles formerly destined for lives as research or testing subjects, are now putting enthusiastic noses to the search for much easier and pain-free lives as beloved family companions. On Monday, Aug. 8, Fairfax County Animal Shelter (FCAS) held a "get to know the beagles" event for members of the media. That shelter recently received 16 of the approximately 4,000 beagles surrendered by breeder Envigo RMS, which, until recently, bred beagles for medical research in Cumberland, Va.  More beagles are expected at the Shelter in coming months.
Noses wiggled and tails wagged, as the dogs explored and enjoyed celebrity treatment as the shelter's newest group of stars before media cameras. They join the cast of shelter characters — let's face it, all pets are stars — although animals at the Shelter find themselves in need of new family audiences to delight and amuse. The beagle breed, chosen for research, in part, due to their easy-going nature and manageable size, also are among the most popular companion breeds. The beagle has been the most popular "hound" dog in the United States for decades, and consistently within the top ten most popular breeds on the American Kennel Club's breed registry; where they currently rank seventh. Described as "merry, loving, lovable, companionable, curious, clever, and energetic" by fanciers, the breed makes an excellent family dog for those who can provide plenty of playtime and are not averse to their hearty voices. For those not already smitten, the flip of a long soft ear, or jolly wag of the characteristically white-tipped flag tail, may start a 10-to-15-year love affair with this winsome 30 pound love-bug.
The beagles now at the Fairfax County animal shelter, ten males and six females ranging in age from two months to six years, were not quite ready for adoption at the time of this writing. FCAS Director Reasa Currier said, "They are currently being evaluated and they need to be spayed/neutered, and some may need additional care. We encourage people to monitor our website. When they are available, they will be posted there."  
Currier said that the shelter was able to take only this 16 in the first group, in consideration of the current animal population in the shelter, which is high. "We are committed to continuing to partner with Humane Society of the United States (HSUS) to take more beagles over the coming months," she said. The shelter will follow their normal adoption processes and fees, which can be found on their web site 
(https://www.fairfaxcounty.gov/animalshelter/adopt/steps). Given their popularity and back story, the dogs are expected to be adopted quickly.
Other adoptable pets already are available for visits during the shelter's open hours. They include appealing senior gentlemen, Aztec and Peace, a bonded pair of border collie mix nine-year-olds, who hope to continue their life journey together. The shelter recently reopened for walk-in visits on July 16th, so adoptions no longer require a prior appointment, and visiting to see the beagles also will be possible once they become available for adoption.
HOW DID so many beagles find themselves in need of homes?  In May, a lawsuit was filed in U.S. District Court against research breeder Envigo, after the federal Animal & Plant Health Inspection Service (APHIS) cited the facility with multiple animal cruelty violations under the federal Animal Welfare Act (AWA) late last year. On July 15, in a consent decree, Envigo agreed to a permanent prohibition on engaging in any activity that requires an Animal Welfare Act license at its Cumberland Va. facility, and to relinquishing all remaining beagles to the Humane Society of the United States (HSUS). A large global animal welfare organization, HSUS, which is not a direct adoption organization, agreed to work with its shelter and rescue partners to transfer all dogs out of the breeding facility within 60 days; thus closing the troubled breeding operation.  [Previous coverage of the Envigo story in Springfield Connection, May 18; April 6; Feb 23.]
Transferring, handling, and finding homes for so many dogs in a short time span is a massive undertaking.  After the July 15 settlement agreement, HSUS's Animal Rescue Team, the same team which responds to natural disasters as well as cruelty cases beyond the scope of local law enforcement, began transfer of the beagles in groups on July 21 and 27.  Fourteen Virginia shelters and rescues, and other such groups across 19 states, joined in accepting beagles for placement.  Each of northern Virginia's city and county shelters, Alexandria, Arlington, Loudoun, have taken dogs, along with several area rescues.  A complete list is available at https://www.humanesociety.org/4000beagles/beagle-partners.
At Fairfax County Animal Shelter, 4500 West Ox Road, Fairfax, Currier says, "The public can come in to meet them [the beagles] along with all of our wonderful adoptable dogs."