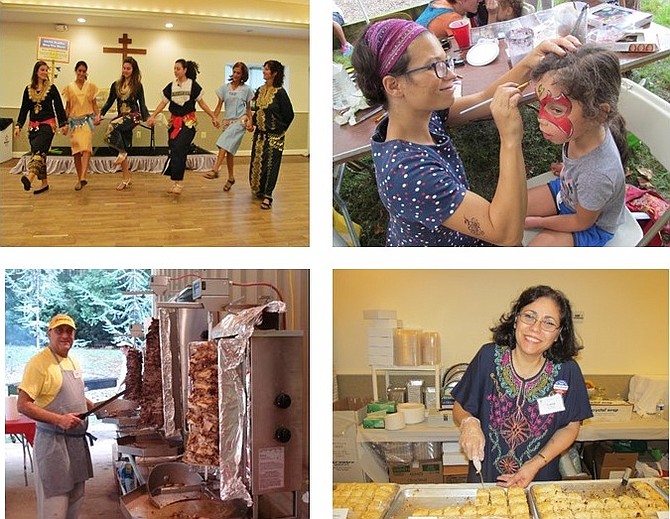 The Middle Eastern Food Festival, hosted by 
Holy Transfiguration Melkite Greek-Catholic Church,
 returns for its 29
th
 year this Saturday, Sept. 3, 11 a.m.–10 p.m. and Sunday, Sept. 4, 12:30–5 p.m. Located at 8501 Lewinsville Road, the admission-free festival with vendors on church grounds celebrates culture and faith while featuring authentic Middle Eastern foods, with many selections cooked on outdoor grills.
Members of the parish take great pride in the event. At the church's 25th annual event in 2018, the McLean Connection reported that Protodeacon David Barood said, "It is really about showing hospitality to our neighbors, our friends, and people who just want to learn a little bit about who we are. We pride ourselves on this love of Christ and love of one another that we then want to share with everyone that comes."
The festival will offer kibbeh, chicken kebabs, falafel, fattoush, hummus, roasted lamb, and other dishes. There is a special roasted lamb dinner on Saturday starting at 6 p.m. For dessert, choose among the baklawa, maamoul, namoura, ghraybeh, and atayef, a pancake-like dessert stuffed with a pistachio mixture and rose-water simple syrup. "It is our largest fundraiser," said Sonia McCormick, festival publicity. 
Families with children can enjoy the moon bounce, face painting, pony rides, the petting zoo, and games. A highlight of the event is Saturday night's 6 p.m. Hafli, a celebration with live music and dancing. Join the Dabke, a traditional rhythmical folk line dance taught by instructors, or take a church tour. 
Holy Transfiguration Melkite Greek-Catholic Church is the local parish of the Melkite Eparchy of Newton (Massachusetts). "Melkite" refers to those Catholics whose ancestry is Middle Eastern and who follow the Byzantine Tradition in worship, theology, and spirituality.