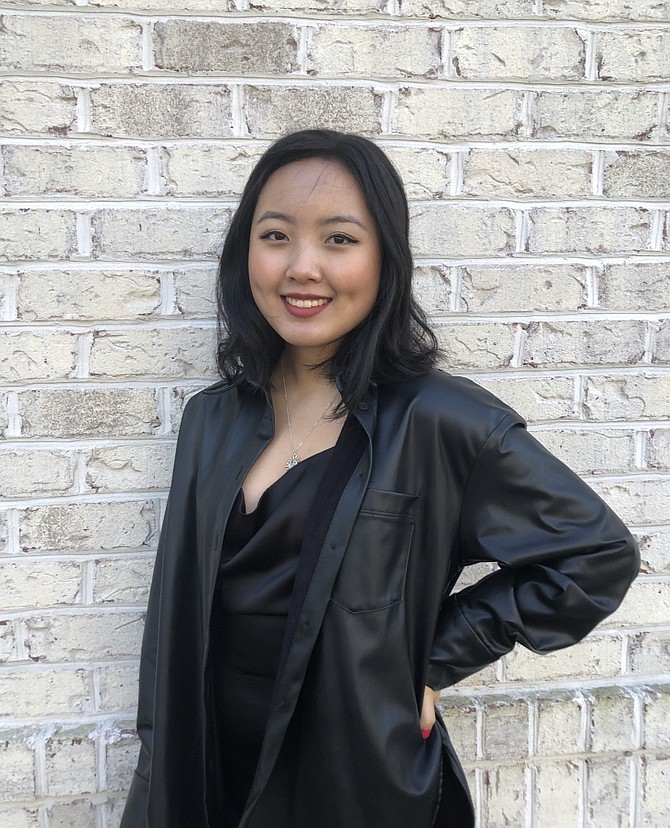 Annie Zhang of McLean was awarded the 2022 Claes Nobel Future Female Leader Scholarship by the National Society of High School Scholars (NSHSS). This scholarship was established to empower young women to assume future leadership roles in their higher education, careers, and communities, and to become mentors for the young women following in their footsteps. Of nearly 500 applications, Annie was one of 10 students who were selected to each be awarded a $1,000 scholarship. 
As president of the Anti-Trafficking International (ATI) Student Advisory Council (SAC), Annie has spearheaded many youth campaigns against human trafficking: a video miniseries, bi-monthly articles for the ATI newsletter, and social media showcases of council members. Her efforts have reached over 250,000 youth around the world. She started by organizing freedom sticker distributions within the council. Stickers had trafficking hotline info, in case survivors walk into a bathroom and need help. She's also worked on two of ATI's annual human trafficking conferences, leading the planning for youth tracks and providing social media insight for their main team. She joined the planning committee as the leader of the SAC sector in hopes of bringing a youth perspective to an interactive conference that had to be moved online due to COVID. It was one of the most challenging tasks she has ever faced, but the conference went on and the participants were engaged and thoroughly enjoyed the information provided. 
Through the SAC, Annie has been able to bring together many students from around the world to work against human trafficking, not just in her community, but beyond. In college, she plans to learn computer science skills to be able to create programs that prevent human trafficking. And beyond, she will continue her efforts against trafficking and use her leadership skills to be a voice for the voiceless. Beyond her work at ATI, Annie has also worked with the Advancement of Student Accessibility Project, contacting various companies and organizations around the county that could provide resources for underprivileged students. When the project expanded, she led the website design and organized all the resources so they were accessible. Her efforts helped many discover and utilize resources they didn't previously know about and helped them in their academic endeavors. 
She says, "My leadership and service will only expand. I will continue to advocate for those who have no voice and intertwine my passion for advocacy with my academic studies. I know I have the power to do so much good in my community, and in the world."
NSHSS is an international honors and scholarship program co-founded by Claes Nobel and James Lewis. It offers a lifetime of benefits, pairing the highest performing students worldwide with high school and college scholarships, events, connections, internships, and career opportunities that begin in high school and carry on through college and careers. For more information, visit https://nshss.org.