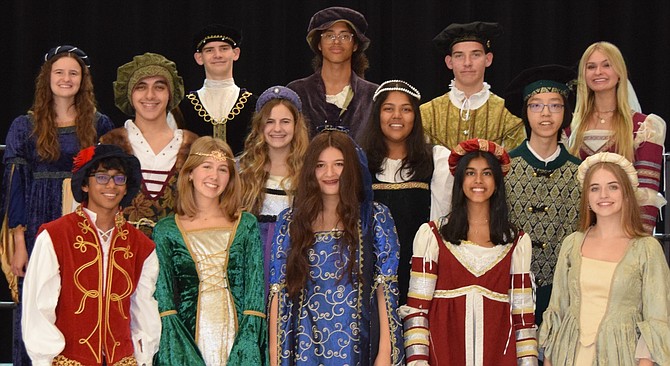 Medieval music, entertainment, and food return this holiday season with the Langley High School Renaissance Feaste on Fri., Dec. 2, and Sat., Dec. 3, at 7 p.m. The new choir director at Langley, Caroline Player, is bringing Feaste to the table somewhat differently. Player said that one of her goals was to "make the event even more lively and energized for the students and the audience." She expanded the repertoire by including a modern setting of "Coventry Carol," and an arrangement of "Mary Did You Know?" performed in the style of Pentatonix. 
Not to worry, guests looking forward to Feaste classics such as "The Hog's Head Carol," which recounts the ritual of slaughtering a boar and offering its head at the Yuletide feast, and "Wassail," which is an old English phrase for a toast. These songs, along with others, will be brought back. Sometimes it is better to stick with what is tried and true.
Dr. John Jones of McLean serves as a co-chair for the Feaste. Because Jones's first pair of twins, boys, graduated from Langley this spring, his second set of twins, girls, left him no choice but to chair again in 2022. In 2021, Jones celebrated the twentieth and final Feast for Dr. Mac Lambert, an educator who had been a mainstay at Langley High School.
Feaste is a family tradition for the Jones family, something Jones said his wife described as "magical" and "difficult to describe until you experience it." Students and parents bring Renaissance splendor to Langley Halle. It is decked out for the holidays with a dazzling stage, long tables set for communal dining, and sparkly lights. Students, clad in medieval garb and masks, perform as jesters, musicians, and singers. The performance features the Merrie Madrigals, the Chamber Choir, and the Bards from the Concert, Treble, and Select Choirs.
The dinner-concert experience is for everyone. Jones recommends that those who do not have students in their households come and make it a part of their family's holiday traditions, especially if they have never done so before. Jones assures everyone that you will not be
Feaste singers such as Nico Morandi-Zerpa, 17, from Great Falls, said that she had always looked up to the madrigals as the ultimate singers in terms of technique and that they seemed to be having so much fun performing together. "Once I got in, I found myself being part of an amazing family and singing fun songs every day. Feaste is a collection of so many of those fun songs. It is a total blast," Morandi-Zerpa said.
Lily Chopus, also of Great Falls and 17 years old, reiterated many things that Morandi-Zerpa said. She, too, had a deep love for music and was looking for a group of people who shared her enthusiasm for it. Chopus could finally fit the elective into her schedule for the first time during the 2022–2023 school year. "I knew choir was the right choice. As for Feaste, I remember seeing the Madrigals rehearse last year and being in awe," Chopus said.
Chopus improved her singing abilities by learning more about working with the other choir members to create a cohesive sound. She said they worked on blending and when to bring out specific parts, which is a valuable skill in all aspects of a group ensemble.
The upcoming Renaissance Feaste is one of Kimberley Greer's favorite activities during the school year. Greer is the principal at Langley High School. "Our choral students are so phenomenally talented. This event provides an opportunity to showcase our choral program while also helping our community ring in the holiday season," she said.
"Come for great food, music, and holiday cheer," Chopus said. Reservations are required. Adult tickets are $45, and student tickets are $25. Tickets are on sale to the general public now at BrownPaperTickets.com. Note that capacity is limited owing to ongoing safety restrictions imposed by COVID.