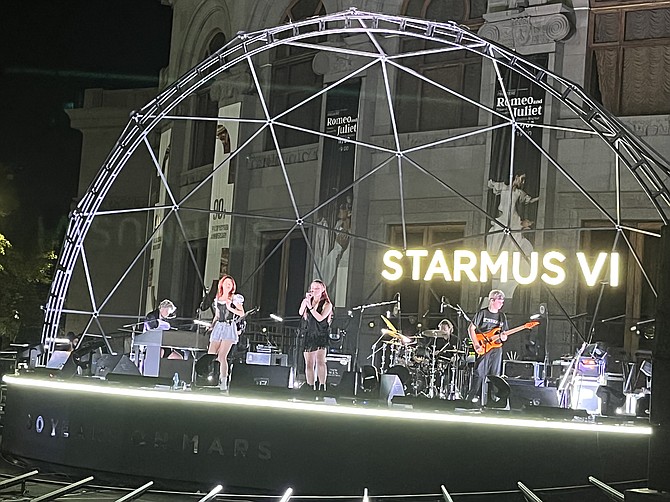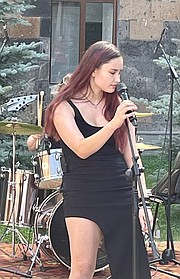 Instead of hitting the books, she hit the stage.
Kat Stockton spent her 19th birthday and first days of college in life's classroom on the other side of the world — observing architecture, culture and history of Armenia, conversing with some of the world's greatest science minds and musicians, and performing for 20,000 people. 
"Artists, musicians and scientists are bound together by human passion and creativity," said Stockton.
Classically trained, Stockton traded her upright bass for a microphone during her rock-n-roll debut at Starmus, a global festival that engages some of the planet's top minds in the spirit of discovery, fusing art, music and science to enhance science communication. 
Starmus was co-founded in 2011 by astrophysicist Brian May, who is also known as the lead guitarist of the band, Queen. The festival has attracted the world's greatest thinkers like Stephen Hawking, Nobel laureates, astrophysicists like Neil DeGrasse Tyson, Apollo-era astronauts Buzz Aldrin and Charlie Duke, and many rock stars.
"It was humbling and uplifting to be around so many people who are super accomplished. Meeting famous people was casual," Stockton said, elated to meet one of her music heroes, Armenian-American artist Serj Tankian. "I got some tips from those I look up to in the music world. Keep your eyes open and your priorities straight."
Stockton hails from Great Falls, Virginia. She attended the Potomac School in McLean and performed with the Capitol Symphonic Youth Orchestras at Carnegie Hall before scholarship and opportunity led to study with industry professionals at Michigan's Interlochen School of the Arts where she graduated in May. Performing in the rising tech hub of Yerevan, the oldest consistently inhabited city on Earth, provided a different learning experience than Indiana University's Jacobs School of Music, where Stockton majors in audio engineering and production.
Stockton performed with a band that called itself Syzygy, consisting of students still attending Interlochen. The band's name, Syzygy, is an astronomical term for celestial objects, such as planets or the sun, earth and moon, forming a straight line.
"We were teenagers who had not worked together as a band and we learned what to do and what not to do and I am grateful for the opportunity," said Stockton.
"This trip gave the kids an idea of how varied a performance could be, in terms of scope, preparation and professionalism," said Marc Lacuestra, Interlochen's director of music production and engineering. "They have learned how to be flexible and how to roll with the punches and make a performance happen under less-than-ideal circumstances, but they also know how smooth a performance runs when everything is done right and everyone is professional."
Five of the band's performed songs were penned or cowritten by Stockton. After performing 10 tunes at a tech center in Gyumri near Armenia's Turkish border, Syzygy closed this year's Starmus festival in the capital city of Yerevan with a nine-song set. The last number was Stockton's "Giant," which is about powering through pain and finding one's voice and purpose.
"It was powerful to end on this song because it was about my personal journey," said Stockton.
As 27 hours of travel home got underway, conflict erupted on Armenia's border. "People my age were so determined to fight," she said. "Even with a tumultuous history, (Armenian) people preserve their culture. The youth are forward thinking and united. Great to get another view and talk to people my age and see how they are handling."
As much as the music, memories of young adults met in Armenia struck a chord. "I am really inspired to be myself. I experienced that I could be that someone who gives hope through music."
That's a feeling Stockton will continue to chase as she completes missed college assignments and continues to broaden her musical spectrum in an upcoming college performances of "L'Étoile." 
"I have found a light to follow. I've made the first steps," she said.