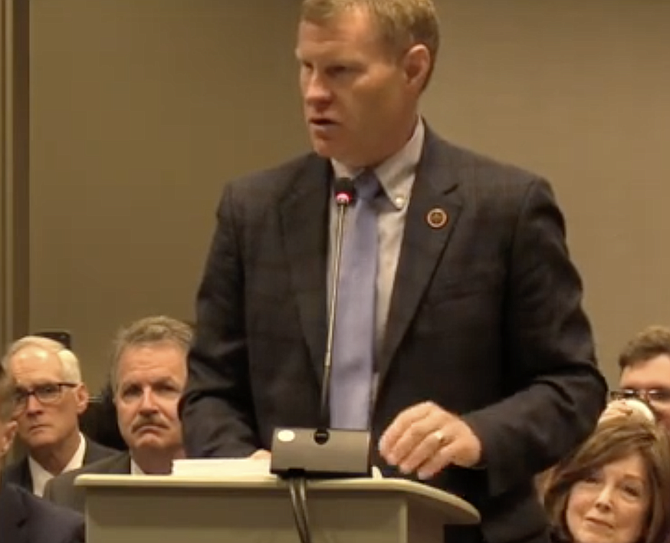 The Commonwealth Transportation Board approved renaming portions of U.S. Route 29 (Lee Highway) and U.S. Route 50 (Lee Jackson Memorial Highway) in Fairfax County. They are officially renamed "Rt. 29" and "Rt. 50" as of Wednesday, May 24. But the approval vote for the name change almost didn't happen. 
"We don't get to go back and change our history, but we do get to decide what in our history we want to celebrate and what we don't want to celebrate," McKay said to CTB members at their meeting in Charlottesville on May 24 before they voted.
The final step in the multi-year process was snagged unexpectedly last month at the April 19 meeting of the CTB in Bristol. Despite staff recommendations for approval of the highway name changes, the CTB delaying action until May 24 so further information could be accessed. 
Some members of the governor-appointed 17-member board expressed concerns at both the April 19 and May 24 meetings with statements ranging from questioning if a number is a name, if there is a policy in the code for such a request, if Fairfax County's public wanted the names changed, and if renaming the highways was erasing history. W. Sheppard Miller III, Secretary of Transportation, is chair of the CTB. 

Commonwealth Transportation Board Meeting: April 19, 2023
The Fairfax County Board of Supervisors had requested that the CTB rename a portion of U.S. Route 29, Lee Highway, located within the county's boundaries, to "Route 29" and rename a portion of U.S. Route 50, Lee-Jackson Memorial Highway, to "Route 50," also within its boundaries. The request, made in compliance with § 33.2-213 of the Code of Virginia, was conveyed through resolutions passed by the Fairfax County Board of Supervisors on Sept. 13, 2022, and a letter dated March 8, 2023, to the CTB. Fairfax County had also agreed to cover the expenses of creating, displaying, and maintaining the signs that would draw attention to the new names.
Kevin Gregg, chief of maintenance and operation, confirmed to the CTB on April 19 that the Fairfax County Board of Supervisors adopted the two resolutions. "Code of Virginia 33.2-213 requires a majority of the CTB members to approve a resolution naming a highway or bridge as appropriate," Gregg said. He added that VDOT was "aware of some opposition to this proposal. … VDOT recommends this request be approved," Gregg said.
Opposition to this proposal had been cited in the public feedback from the Confederate Names Task Force's online and written survey responses. The state code for renaming highways does not require a survey.
During the discussion by CTB members, Thomas Moore Lawson (At-Large Rural) brought forward his concern about suitable names for state highways, for which the code provides "a very detailed and easy-to-follow process for naming after State officials." 
"This one, for this board member, is new and different ... than commemorative naming," said Lawson. "I have an issue with thinking of a number as a suitable name as defined in the code."
E. Scott Kasprowicz (At-Large Urban) said that one of the requirements would be that they, Fairfax County, pay for the costs of the changes they initiated.
Bert Dodson Jr. (Lynchburg District) said, "The worst thing that could happen, in my opinion, is that the survey surfaces in the press after we make a decision." Dodson requested delaying a month. "It is not going to change anything in relation to the information they've already given us if we have all the information in front of us." 
Mary Hughes Hynes (Northern Virginia District) said, "I am a bit surprised … we would second guess the duly elected body by the people of Fairfax County, who've gone through a process [and] made a request of us to make a change."
The CTB approved delaying the vote until May 24 for consideration. According to the motion, W. Sheppard Miller III, Secretary of Transportation chair, would gather additional information on the statute and the board's authority and get more information from Fairfax County.
The vote to delay led McKay to present at the May 24 CTB meeting in Charlottesville at 8:30 that morning. In an interview later that week, McKay said that when he ran into Hynes in the lobby before the meeting, she said, "We have no idea how this is going to go because we've never seen anything like this before."
Commonwealth Transportation Board Meeting: May 24, 2023
The resolution for Route 29 and Route 50 name changes reflected that the County Board of Supervisors checked all the boxes according to code requirements. McKay addressed the board, saying he was at the meeting "simply to support the road naming changes that are before you for Route 50 and Route 29." He assured the CTB members that the Fairfax County Board of Supervisors went through extensive outreach on this subject over multiple years. "Our board stands very strongly in support of this name change by a vote of nine to one," McKay said.
Going back in time, McKay told how the board started the effort by creating a Confederate Names Task Force in July 2021. The task force held 11 meetings in person and virtually to gain public support and awareness.
"We had nearly 23,000 people respond to the name-changing requests, and normally when you solicit input from the public, you're going to more likely hear from a lot of people opposed to something than for it. Yet of those 23,000 respondents, it is a pretty close call between people who supported the name change and people who opposed it," McKay said.
He told the CTB members when they asked the respondents what they would change the name to, "overwhelmingly, the public supported simplicity, just calling them by their route numbers. which is what we as a Board of Supervisors supported, and what we're petitioning the CTB to do is to simply change these names to Route 29 and Route 50."
"Cut out any future controversy or challenges with the motoring public trying to figure out all these different road names throughout our region," McKay said. "Lord knows there are enough of them in Northern Virginia that can change multiple times … We wanted to make sure that we weren't further confusing people." 
McKay addressed the county's financial support for businesses and residents along the corridor, saying the Board of Supervisors had directed money aside through a grant program to help them pay for any administrative costs they might incur in making these name changes.
"Our board is not only picking up the $1.4 million tab for changing the signs as would be required through this process but also setting aside a million and a half dollars to help anyone who requests financial assistance...— approximately 500 residents and 900 businesses," McKay said. He noted that Fairfax County has twice the national average share of minority-owned employers and minority-owned firms, at 8,000, with 85,000 employees working for those minority-owned firms.
"That is 33 percent of all of our county payroll and business taxes. So minority-owned businesses are literally the heart and soul of our reputation in Fairfax County," McKay said.
McKay said the county built an inclusive economy, the economic engine of the Commonwealth of Virginia.
"The symbols that we have, including signage right after international travelers get out of Dulles International Airport ... are not necessarily the symbols that make them feel good and make them want to invest and continue to invest in Northern Virginia. So, this was not a close call for us in terms of the right thing to do," said McKay.
During the discussion, CTB Board member Frederick T. Stant III (Hampton Road District) said the bottom line was that he was voting in favor of the resolutions, but it was not easy. 
"Various governing bodies sought to name these roadways after these Virginians to honor the memories of those Virginians, and we're now asked to rescind that honor. I don't have any problem with that; I think that they probably should be rescinded … The issue is, what do you do with those memories of those Virginians? Memories are history, and we can only learn from history by not erasing it," he said.
The CTB approved renaming the two highways to Route 29 and Route 50. Darrell R. Byers, Culpeper District, and Bert Dodson Jr., Lynchburg District, voted no.