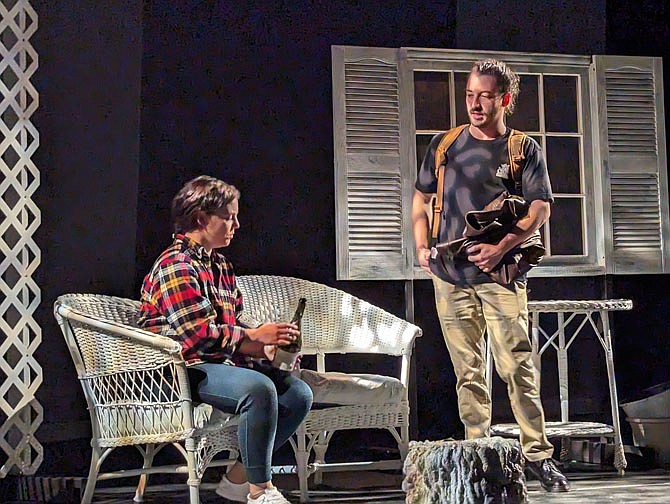 During the writers strike and ongoing labor dispute with the Alliance of Motion Picture and Television Producers, McLean native Margaret Berkowitz, an actor and producer in Los Angeles for the past six years, returned home to McLean and is once again involved with local theater.
Berkowitz returned to The McLean Community Players in a directing capacity for the play Proof, by David Auburn. After its debut last weekend in McLean, Oct. 27–29, it will run one more weekend, Nov. 10–12, at The Great Falls Grange. She is assisting Michael Replogle, who was professor of the Musical Theatre & Actor's Studio at Fairfax Academy, and retired in 2020. 
Berkowitz is working with the lead actress in Proof, former classmate Jess Rawls and she is thrilled to introduce this significant work of art to the Great Falls community.
On Friday morning, Nov. 3, Berkowitz and Julie Maher, the director of the Great Falls Grange Foundation, agreed to meet at the venue, 9818 Georgetown Pike, Great Falls, next to the Great Falls Library, to discuss the performance.
Maher said that people who have come to the Grange for the first time will be pleasantly surprised at the intimacy and the character that the Great Falls Grange has to offer. "This is a theater-style hall with excellent amenities and a charming atmosphere, and we have a fantastic stage."
Berkowitz said that the space of the Great Falls Grange completely lends itself to their particular, intimate performance. "It's a minimalist set with a four-person cast — no mics. I mean, these acoustics in here are amazing. Everybody will be able to hear everything," Berkowitz said.
David Auburn wrote the decisive play, particularly for the community. According to Berkowitz, it's a beautiful story of the intricacies of family dynamics between fathers and daughters and sisters and sisters. There's also a love interest, so there's something for everybody.
"And in this space, it gives me the vibe of Footloose and Music Man (on stage). Both of those plays also bring to mind the strength of community and particularly the arts between McLean and Great Falls as a community," Berkowitz said.
The actors will play the roles as written and as directed by Michael Replogle and assistant director Berkowitz; when asked to review each actor, Berkowitz shared the following:
"I'll start with Dave Wright, who plays Robert, the father. His energy speaks for itself. He brings so much humor to a historically challenging role with so much ease."
"Jess Rawls is powerfully sarcastic and yet vulnerable at the same time."
"Earnest Fletcher is a breath of fresh air to the D.C. theater community. It's his first time back on the stage."
"And Hilary Sutton is bubbly and so enjoyable to watch."
Visit https://www.gfgrange.org/events to purchase tickets for performances of Proof held this weekend at The Grange in Great Falls. 9818 Georgetown Pike (VA-193), Great Falls, Va. Tickets are selling fast for three performances: Friday, Nov. 10 at 8 p.m.; Saturday, Nov. 11 at 8 p.m.; and Sunday, Nov. 12 at 2 p.m.