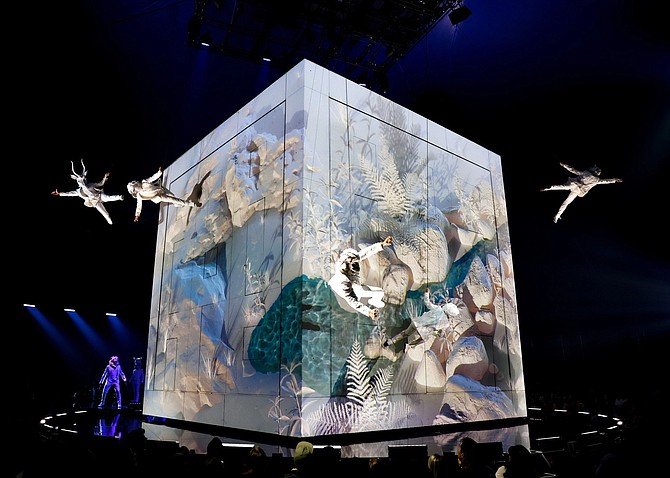 There are no elephants or lion tamers. This is not your grandfather's old-style American circus. While there are acrobats, a contortionist, high-wire acts, and clowns, the performances are woven together, choreographed as a story; creating an entertainment more like a high-flying drama than circuses of the past. 
"What really excites me most about this beautiful project is the ability to push the boundaries of what can be achieved in a Big Top setting and deliver a joyful experience, full of surprises, to millions of people around the world," says the show's director, Mukhtar Omar Sharif Mukhtar.
Cirque du Soleil makes its return to Northern Virginia under the Big Top at Tysons II with a new show through Oct. 22. This time, for the first time, starting its U.S. tour here with ECHO. This is Cirque's 20th big top touring show. ECHO tells the story of FUTURE, an inquisitive young woman, who wanders into a fantasy world with the company of her best friend, EWAI, a dog. Encountering a mysterious CUBE, they quickly learn how their actions have the power to shape the world. ECHO says they tell the story "of connections, intention, and the symbiotic unions between humans and the natural world. Fueled by the power of change, the hope of youth and the value of empathy, if we come together, we can rebuild our planet to create the world we all want to live in. " 
The show's artistic director, Fabrice explains ECHO was developed in two phases, before and after COVID halted work; changing creative designers in the interim. Once restarted, it took months to complete the design concept, original music, and physical stage elements. The last step put all the elements together for four weeks of fine tuning during preview performances near Soleil's Montreal headquarters. Sixty tractor trailers move the multiple tents, lights, projectors, wires, and other stage elements and performance equipment, and furniture, washers and dryers, kitchen equipment, costumes, physical therapy benches, sewing machines; right down to make-up and mirrors. The main tent holds the stage and room for an audience of up to 2,500 under its nearly 80-foot high top. The show's major stage element, the CUBE, itself is two stories high, weighing about two tons. 
A second artistic tent houses a wardrobe area with all the costume pieces, including accessories, shoes, and wigs; dressing rooms, a fully equipped training area, and a physiotherapy room. A third houses the kitchen and staff dining room; between meals becoming a place that doubles as a common gathering room for the cast of 52 and technicians. It takes four and a half days to put it all up, and two days to break down when the show moves to the next city to begin it all again. The Tyson's stop will be a short seven weeks, before the show goes on to Atlanta for a three month long engagement. 
The troupe, from 19 different countries, shares English as their "circus language". 
Watching pre-show warm-ups of the triple teeterboard team, even practice in the artistic tent is a high-flying activity. One can sense the shared joy of synchronized movement that creates the freedom to float in the air. Banter and laughter erupt linking the team. On stage, in costume, the team is transformed into playful birds, taking flight from the teeter boards into the air with energy.
You won't see frizzy haired clowns with red bulb noses and large shoes. DOUBLE TROUBLE, the clowns here, "identify more closely as characters" , says artistic director, Fabrice Lemire. DOUBLE TROUBLE meet the audience in pre-show shenanigans and bridge a bond between the audience and the other characters. 
Costume lead, Laura Mcclure, who joined Cirque in 2014 from Kentucky, says laundry is a constant as crew members also bring their personal laundry from their hotel living quarters. 
Those interested in the music of ECHO will find a first for Cirque productions: the live band includes six vocalists who also play instruments during the performance. As in other shows, the musicians are on stage creating the mood with the tempo and peaks and valleys of their emotional live music.
Hachaliah Bailey was a New York cattle breeder in 1808 when he bought a young Indian elephant, one of the first in America, and began exhibiting it with a trained dog and a few pigs. His animal acts, beyond just horse tricks, would evolve into the Bailey part of the Ringling Brothers & Barnum and Bailey Circus. He moved to Northern Virginia in 1837 buying land in Fairfax County that gives Bailey's Crossroads his name; wintering his circus there. By 2019, England had banned wild animals in traveling circuses, and in the U.S., 37 States and 150 cities had bans or restrictions on wild animal use.
Modern circuses, like Cirque du Soleil, have evolved from traveling menagerie run by businessmen in the U.S. and those in Europe controlled by performing families, into a refined performing art. For more on ECHO including ticket information, see