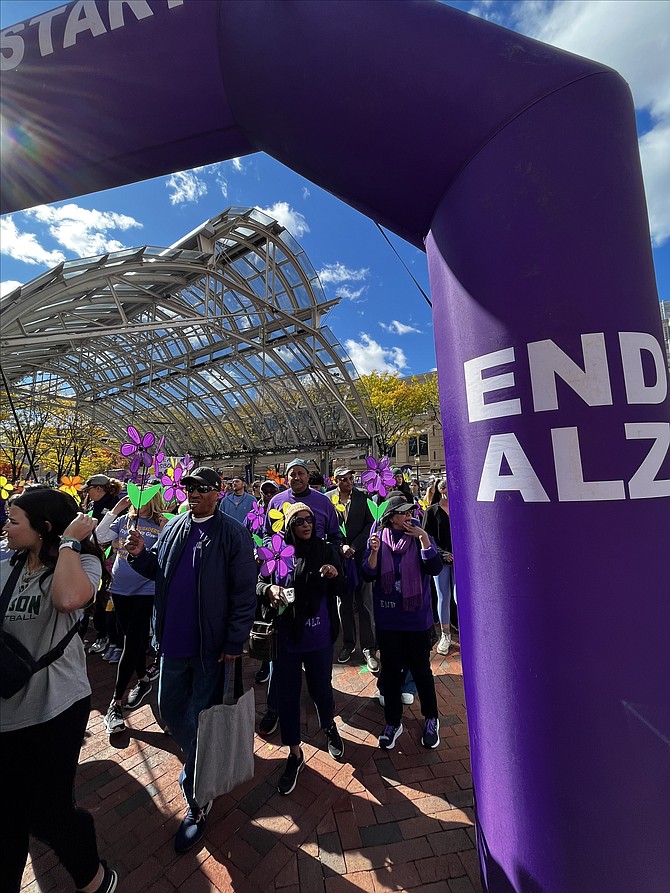 As the population ages, Alzheimer's disease is more prevalent. An estimated 6.7 million Americans aged 65 and older are living with Alzheimer's dementia in 2023; and of the total U.S. population, about 1 in 9 people, or 10.8 percent, age 65 and older, has Alzheimer's dementia, according to Alzheimer's Association 2023 Alzheimer's Disease Facts and Figures. Alzheimer's disease and related dementias are defined as a loss of cognitive functioning that includes memory loss, reasoning skills, and the ability to perform simple tasks to the extent that it significantly impacts the person's daily life.
On Sunday, Oct. 22, participants in the 2023 Northern Virginia Walk to End Alzheimer's gathered at Reston Town Center. Many wore purple, the organization's signature color, which combines the calm stability of blue with the fiery energy of red. Judy Misbin, the local volunteer coordinator, walked up to the stage wearing her purple tee shirt and addressed the near-standing-room-only crowd. 
"There are now multiple FDA-approved treatments that can change the course of Alzheimer's …and more potential treatments [are] in the pipeline," Misbin said. She added that 150,000 people in Virginia are living with Alzheimer's, and 354,000 people serve as unpaid caregivers. She urged those attending the walk to visit alz.org to learn more about the disease and to get involved.
Navigating Alzheimer's disease and other dementias challenges everyone. It begins with fear by those who are afflicted and might aware they are losing cognition. Family and friends provide support and accommodations, but they grieve; the person they love is on a frightening journey, a progression of atrophy that generally accelerates over the course of the disease, even with initial intervening treatments. The progression of the disease may slow down, but it still progresses. There is still no cure for Alzheimer's.
There is a pressing need to speak out in favor of new treatments as well as the requirements and rights of those impacted by the condition and other dementias. "Dementia is one of the most costly conditions to society," Misbin said. According to the Alzheimer's Association, in 2023, Alzheimer's and other dementias will cost the United States $345 billion. This number is projected to rise to nearly $1 trillion in 2050.
Nationwide, the Alzheimer's Association Walk to End Alzheimer's is the world's largest fundraiser for Alzheimer's care, support, and research. The event encourages people of all ages and abilities to take part in the fight against the disease. According to the Reston event website, nearly 1,000 people registered as participants.
They walked with purple flowers in memory of their loved ones and for all those who have died as a result of Alzheimer's and other forms of dementia. They carried orange flowers to show their support for the Alzheimer's Association. They walked with yellow flowers because they were caregivers for someone who had Alzheimer's or dementia, and they wanted to raise awareness for caregivers who work tirelessly and are often unpaid. They walked with blue flowers because they themselves have dementia.
As of Oct. 22, the 2023 Walk to End Alzheimer's in Northern Virginia raised $250,980, 88 percent of their goal of $285,000, through the support of 957 participants in 174 teams. The fundraiser remains open until the end of the year. Visit https://act.alz.org/site/TR?sid=23932&type=fr_informational&pg=informational&fr_id=16450 for more information.
While there was no registration fee for the Reston walk, all participants were encouraged to raise critical funds that allow the Alzheimer's Association to provide 24/7 care and support as well as advance research toward methods of prevention, treatment, and, eventually, cure. A white flower represents this goal of a cure. No one has yet to walk with a white flower.