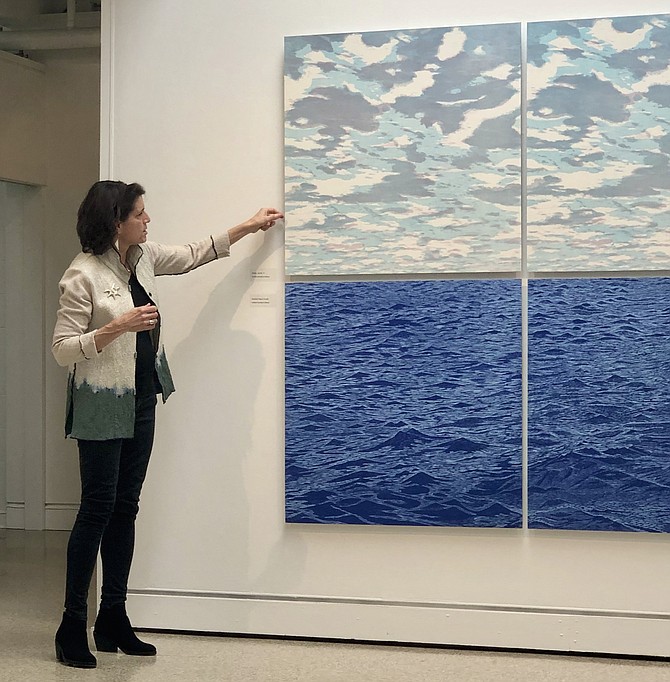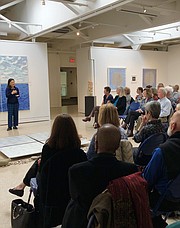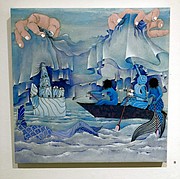 On Sunday afternoon, the McLean Project for the Arts held a presentation open to the public where visitors could come and talk with the artists whose works are being shown in the MPA gallery in the McLean Community Center. Currently on display are the works of Eve Stockton, a printmaker living in Alexandria, and Kyujin Lee, a painter living in Washington D.C.
Raised in rural Ohio, Stockton jokes that she grew up as an "Ohio farm girl" who enjoyed a happy and privileged upbringing in a family of six, Eve being the youngest of four girls. She remembers always being outside with her sisters, running and playing about the Ohio landscape. She shared that her "upbringing is responsible for her deep-rooted love of nature." A closer look around the MPA gallery, and visitors would find that a large majority of Stockton's work are woodcut prints. Stockton told the audience that she enjoys "looking at nature from different points of view, whether that's microscopic or cosmic." This variety in perspective is what makes each print vastly different from the next. Print-making is a complicated process that takes days to complete should the artist want to use several colors.
Stockton is a passionate artist that is excited about her work. She got laughs from the audience on a few occasions for sharing that she actually "pays to go to work" so that she can use the printing materials, and that she once completed a six-foot piece in one month, which she reminded the non-artists in the room that "this was not normal."
The next artist that presented in the gallery was painter, Kyujin Lee. Lee was born in Seoul, South Korea and similarly, her childhood experiences also influence her work. As a child, Lee remembers reading the stories of "Pinocchio" and "The Little Mermaid" and finding that she identified greatly with these characters because of their state of in-between. "In between feeling strong and feeling defeated, they embody the predicament of what they wish to be ideal and what is reality." Lee continued to discuss the tug-of-war her characters experience, "Pinocchio wishes to be a boy, but he is wood, and the Little Mermaid wishes to be human, but she is part fish." Lee relates to this conflict and reminds us that "Living can be really hard sometimes... The cycle of life continues to move us but obstacles we are made to face are always along the way."
In her art, Pinocchio and the Little Mermaid are frequent protagonists in her pieces, and help tell the visual narrative Lee is trying to share. Lee also shared with the audience that she has not read the fairytales from her paintings since her childhood. She does this to maintain her own memories of the stories and to recall from her young life how she felt she related to the characters.
Stockton and Lee's artwork will be open to the public in the MPA gallery at the McLean Community Center until March.